The German government rejected 14,403 of 27,639 Afghan asylum applications in January and February, the Passauer Neue Presse reported Sunday. In 2015, 77.6 percent of Afghani asylum seekers were accepted, and in 2016 only 60 percent. This year is the lowest so far, at 47.9 percent for January and February.
The information was released at the parliamentary request of the German Left Party, which claims that Afghani asylum seekers are being unfairly deported back to their home country, where they could still face harm or persecution. The German government has declared Afghanistan to be a safe country of origin.
Chancellor Angela Merkel has taken a tougher stance on migrants in Germany who do not receive asylum, with group deportations of failed Afghan asylum seekers having begun this past December. The Chancellor is running for reelection in September this year and has come under fire in the past for her open door asylum policy as a million migrants entered Germany two years ago.
"It's a result of political orders to increase deportations and send a warning signal," Ulla Jepke, a Left Party politician, told the Passauer Neue Presse newspaper, in response to the German government granting fewer Afghans asylum.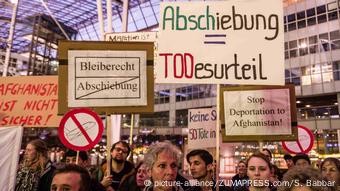 A protest against deportations at Munich airport
Thousands of Afghan refugees "former Taliban"
This news follows a report over the weekend in which German news magazine "Der Spiegel" claimed that several thousand former Taliban fighters could have possibly entered Germany under the guise of asylum seekers. The magazine reports that the Public Prosecutor General has encountered 70 cases, and six men are being held in pre-trial detention.
German authorities believe that Afghan asylum seekers who claim to be former Taliban fighters are doing so to increase their chances of staying in Germany. These Afghan asylum seekers think that they will not be deported back home because possible membership of the Taliban means that they could be given the death penalty.
Legal proceedings are to begin next week in Berlin and Koblenz against several suspected former Taliban members. This is in addition to current proceedings against suspected members of the 'Islamic State' in Germany who came as asylum seekers.