Germany's Bertelsmann Foundation commissioned and presented the results of the survey, titled "Who Rules the World," this week. The organization said its goal was to examine the public's opinion of what defines a world power by polling 1,000 people in each of nine countries: Brazil, China, France, Germany, India, Japan, Russia, the United Kingdom and the United States.
In the decades since World War II, Germany has largely kept a low-profile in international affairs, and especially military deployments, but has begun to gain confidence on the world stage with more Germans saying they should play a larger role in maintaining world peace and stability.
The study's author, Stefani Weiss, spoke with DW-WORLD.DE about the views of German respondents and the country's growing sense of self-confidence on the international stage.
DW-WORLD.DE: Did the results surprise you?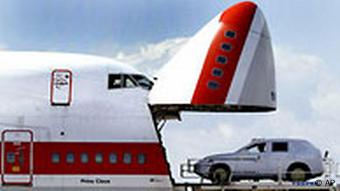 German exports in 2006 accounted for more than any other nation
Stefani Weiss: Yes, I have to say they did. Normally we think that we are reserved, but even the first study we did in 2005 shows that we have a healthy amount of self-confidence. I think the main reason can be seen in other surveys, showing that Germany is a strong export country and that its economy has been ranked third for a long time.
In the nine countries surveyed, there was not a predominant notion of what defines a world power. What were the most important characteristics for Germans?
The survey shows that Germans, more than other nations, do not see military strength as an important quality of a world power. When you look at what qualities Germans attribute to world powers, it comes down to political stability and economic strength. When you put these two things together you can come to the opinion Germans have of themselves.
At the same time, it is downplayed a bit as well. Because of our past, we know there are historical accusations that Germany tends towards megalomania. But if you look at the study's results in light of the qualities Germans regard as traits of world powers, then Germany -- because of its gross national product and political stability -- certainly belongs in that group.
Germans' views of themselves as a world power increased from the 2005 study by 8 percent to 49 percent in 2007. Do you think Germany's international role this year as president of both the European Union and the Group of Eight shaped Germans' opinions?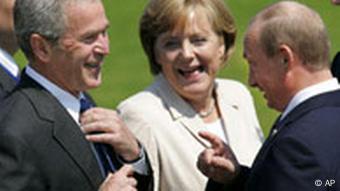 The G8 presidency increased Germans awareness of their role in the world, Weiss said
It certainly contributed to showing people in Germany that we are responsible not only for ourselves, but that we also have a responsibility in the world. For years there has been an accusation that Germany is absorbed with itself, and I do not think this accusation can be made anymore.
Germans say that, after the UN and the EU, they themselves should be the next ones taking on more international responsibility. Is there a feeling among Germans that they aren't doing enough on an international level?
The accusation we've had to answer most in the recent past is that we are doing too little. That is a problem of Germany's history: whenever we begin getting involved someone isn't pleased. We've had a very hard time taking on responsibility outside of NATO. The mission to Kosovo under [former German chancellor and foreign ministers] Schröder and Fischer was certainly difficult for Germans, just as the continuing military and civil commitments in Afghanistan are still regularly debated. This is going on even as other states call on us to take on even more responsibility. At the moment we are extremely reserved, and it is very, very difficult for us to commit ourselves. I don't see it as a bad signal when the German population is of the opinion that Germany should contribute more.
How does that fit with the response from Germans that they want the United Nations and European Union to take on larger roles when it comes to maintaining peace and stability in the world?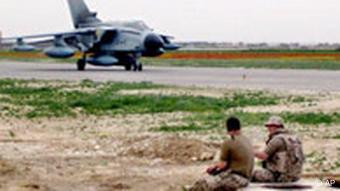 NATO has repeatedly asked Germany to contribute more to missions in Afghanistan
It shows that the self-confidence that does exist is being tempered by multilateralism. When it comes to shaping the world, Germans are among the first to say they would like global governance and that the EU, in particular, should take on a bigger role.
Because Germany gives precedence to the UN and EU, I don't think German self-confidence can be interpreted as new nationalistic course. Germany sees itself as a meaningful power in the realm of large powers, but still wants the world to be shaped by the UN, and the region by the EU. Germany is not on a self-righteous, nationalistic course but, in fact, moving in the opposite direction.