Russia and Germany are becoming increasingly estranged, according to some experts, and Russian Defense Minister Sergei Shoigu's announcement that a replica of the German Reichstag will be built near Moscow for teenagers to "storm" at a theme park hasn't helped the situation.
A German Foreign Ministry spokesperson said on Friday that officials found the project surprising.
"We wouldn't build something like that for the education of German youth," Foreign Ministry spokesman Martin Schäfer said.
Others in Germany saw the development with astonishment and disgust.
"The building of a Reichstag replica comes out of a deterioration of Russia's relationship with Germany," said Stefan Meister of the German Council on Foreign Relations (DGAP). "This will lead to a negative picture being created about Germany. It is a glorification of Soviet history."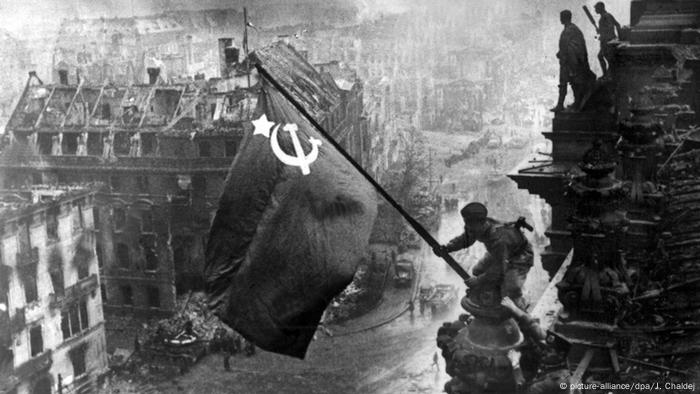 Russians still glorify the Soviet role in winning World War II
More than just a military exercise
For Elmar Brok, a German member of the European Parliament and until recently head of the European Parliament's Committee on Foreign Affairs, the crucial point is what kind of "Reichstag" is going to be built.
"I don't have any objections if it is a recreation of how the Red Army occupied the Reichstag in the battle against Hitler," Brok said. "But if it is Germany's modern home of democracy, then it is unacceptable."
Such a step would look like threatening military action against modern Germany, he added.
The reactions were triggered by a statement from Russian Defense Minister Sergei Shoigu on the eve of Russia's "Defender of the Fatherland Day."
"It will not be completely replicated, but it will be enough so that our young soldiers have something concrete that they can take by storm," he told representatives of the Duma.
The replica of Berlin's historical Reichstag, which has housed the seat of Germany's parliament since 1999, will be built in "Patriot Park" and be used by the Russian youth movement, called "Junarmija" or "young army."
"Patriotic education"
The Junarmija movement was Shoigu's initiative and was founded in October 2015. At first, it had the neutral sounding name "Russian School Student's Movement." According to official information, the organization now has more than 40,000 members.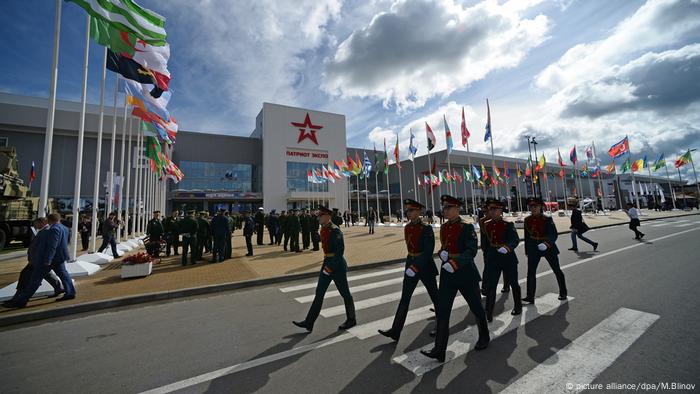 Patriot Park opened with a military parade in 2015
"Patriot Park" near Moscow belongs to the Defense Ministry and was opened to the public in the summer of 2015. Over an area of more than 5,000 hectares (123 acres) are several exhibition halls, conference rooms, a cinema and a stage, among other facilities. The park's website states that it is a place where "the responsibilities of the Defense Ministry can be combined with affordable family outings, sports activities and patriotic education."
Shadow of the past
Alexander Rahr, the research director of the German-Russian Forum, said he finds the idea of re-enacting the storming of the Reichstag building "strange and inappropriate."
"Today the Reichstag building is the home of the parliament of a democratic Germany that has dissociated itself from its Nazi past," says Rahr, one of Germany's political scientists who is eagerly quoted in Russian state media.
Since the end of World War II, Germany has used the term "Bundestag" to refer to the country's parliament while the "Reichstag" is used to connote the building that houses the parliament.
Julius von Freytag-Loringhoven, head of the Moscow office of the Friedrich Naumann Foundation, which is tied to Germany's free-market liberal Free Democratic Party, also described Moscow's plans as disturbing.
"Even if such an exercise is done for the purpose of a historical recreation, by building a replica Reichstag, it is unavoidable that those taking part in such military exercises will have the current Reichstag in mind," he told DW.
He said Germans view Russia's increasing militarization and identification with a belligerent period of history as rather sinister.
"It reminds us of ourselves and of that which we never, ever wish to repeat, he said.
While not commenting directly on rebuilding the Reichstag, a Russian Defense Ministry spokesperson questioned German politicians' skepticism of Moscow's plans.
"It seems that some in Germany have forgotten that Hitler and those who built the Third Reich started their bloody march from the Reichstag," spokesperson Igor Konashenkov told DW. "The attacks from German politicians are met not only with a complete lack of understanding [in Russia] but also make one wonder about what views they may really have about the founders of the Third Reich."