The metalworkers union IG Metall has brought charges against Siemens accusing the company of breaking German law by trying to influence labor through bribery. It is another step in yet another scandal to engulf the German engineering giant. This latest move indicates momentum continues to gather pace and is another blow to the company's weakened executives.
The charge is that Siemens illegally financed AUB, a small union which is considered more employer friendly. Siemens allegedly hoped AUB would act as a counterweight to IG Metall, which has said that AUB sometimes blocked its positions in labor talks.
"IG Metall has filed a complaint over possible favoritism" of the independent organization AUB and possible attempts to influence voting in work council elections within the Siemens group, the union said in a statement.
"We have the suspicion and indications that AUB was financed by Siemens in order to build it up into a sort of counter union to IG Metall," union chief Jürgen Peters said.
IG Metall may possibly have been disadvantaged in its work and in works council elections, he alleged.
Hoping for transparency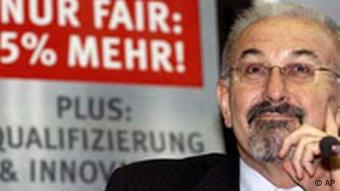 IG Metall leader Jürgen Peters
"We hope the lawsuit will bring about transparency," Peters said.
His deputy, Berthold Huber, said there may have been systematic favoritism to AUB.
"Only the public prosecutors have the means to determine the extent of this affair," Huber said.
German prosecutors have named the investigation "Operation Amigo," which highlights the unusual friendship between management and AUB. IG Metall dismissed suggestions that the AUB was a proper labor union.
"The AUB has not conducted any wage negotiations, nor is it in a position to conduct strike action," Huber said.
Siemens rocked by scandals
Siemens is currently entangled in a web of different corruption allegations.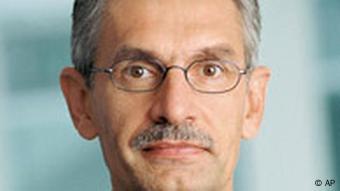 Johannes Feldmayer
Last week, a member of Siemens' central management board, Johannes Feldmayer, was arrested over his alleged involvement in allegations that management tried to build up the tiny AUB into a possible counterweight to the all-powerful IG Metall.
Siemens' former finance chief, Karl-Hermann Baumann, was also being investigated in the matter.
Both he and Feldmayer are being involved in 15-20 million euros ($20-26 million) in alleged bogus consultancy fees to AUB chief Wilhelm Schelsky, who was arrested last month.
Alleged slush funds
At the same time, Siemens is also engulfed in a massive slush-fund scandal, where prosecutors allege that company managers siphoned off hundreds of millions of euros in company money to obtain foreign contracts.
Prosecutors this week said they had arrested two more current and former managers in connection with the matter following a series of high-profile arrests at the end of last year, including the former head of Siemens' telecoms division, Thomas Ganswindt.
Prosecutors allege that the employees concerned are suspected of collaborating to open slush fund accounts abroad and of operating a system to embezzle company money.