To create their play "Karl Marx. Das Kapital, Volume I", Hildegard Haug and Daniel Wetzel from Rimini Protokoll talked to 100 people about their experiences and concepts of capitalism, and chose eight for the stage.
The pieces are portrayed by so-called "Everyday Experts" -- ordinary people who relate their story on stage. One of these is Thomas Kuczynski, who used to be an Economic Historian in former east Germany. He recounts how time is money.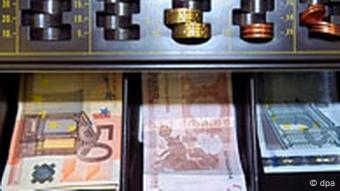 The piece explores the themes of capitalism
"The German version of Das Kapital has 25 chapters, or 750 pages of text, or 1,957 200 characters including spaces. We have 100 minutes of time, that means four minutes pro chapter, or we read seven and a half pages per minute or 544 characters a second. To study Das Kapital, you need 1500 working hours, or 90 complete "Ring cycles" by Wagner."
Everday experiences of capitalism
A Latvian filmmaker reports how he almost because a "unit of exchange" after the second world war -- he was almost swapped for bread, butter, and milk.
Then there is gambling addict Ralph Warnholz from Düsseldorf, who speaks about how he almost destroyed himself with his own capital.
Christian Spremberg, who is blind, expands the acoustic dimension of the work with his 20,000 strong record collection. His contribution -- the "sound" of money.
The play is set in a lounge room filled with books, gambling machines, television, and an infinite amount of copies of the complete works of "Das Kapital". During the course of the evening , these books are distributed throughout the audience.
The Düsseldorfer Schauspielhaus
"Karl Marx: Das Kapital" is currently showing at the Düsseldorfer Schauspielhaus. With their latest piece, Rimini Protokoll added another touching and existential dimension to their body of work. They have taken the converging and at times conflicting themes of work, money, wealth and globalization and added a new voice to the debate.
In addition, they have emphasized the most important part of theatre -- its human capital.