Never before have German swimmers done so badly at World Championships. Their performance in Barcelona was only marginally better than that at last year's Summer Olympics, where the team went home empty handed.
In Barcelona the total tally was one single silver medal, which went to Marko Koch, who won in the 200 meter breast stroke event.
"Things have not improved for us," admitted head coach Lutz Buschkow. "We still have the same problems."
The final day of the competition saw several German disappointments. The men's 4 x 100 meter medley relay with star Steffen Deibler placed in fifth, and the women's 4 x 100 fared even worse with star Britta Steffen and her teammates disappointing with a last place finish in eighth. Dorothea Brandt (pictured above) also finished last in the 50 meter freestyle competition.
Head coach Buschkow warned of financial repercussions of the disastrous performance.
"There will be far-reaching changes for the swimming team," he said.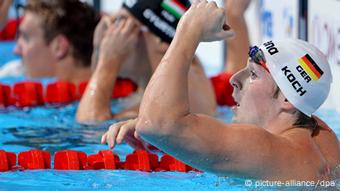 Marco Koch won the sole German medal in the pool
Marco Koch, the only German swimmer to live up to expectations in Barcelona, had been training on his own, far away from the Olympic training facilities in Darmstadt.
Teammates Steffen Deibler, who had had high hopes for the 100 meter butterfly final, missed out on a medal along with the two-time 100-meter-freestyle world champion Britta Steffen, who announced she was now thinking long and hard about her future career.
"I have to let things sink in now, I'm only human after all," said 29-year-old Britta Steffen in Barcelona, refusing to say whether she would participate in the European Championships in Berlin in 2014.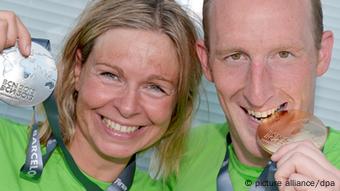 Angela Maurer and Thomas Peter spared the German team the ultimate embarrassment
However, the Germans were able to regain some momentum in the open water events, and managed a face saving seventh place in the overall medals table.
Thomas Lurz and Angela Maurer won gold and silver respectively over the 25 kilometer open water distance.
Patrick Hausding and Sascha Klein won the 10-meter synchronised platform diving competition.
There was also the surprise success of Anna Bader, who won bronze in the inaugural event of high diving, which involves jumping 20 meters from a platform into Barcelona's harbor.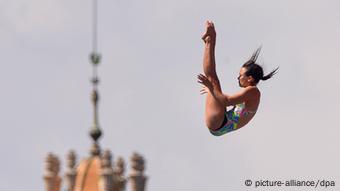 Anna Bader makes her living as a circus artist in China
The new competition drew record media attention as divers hit the water at a speed of around 90 kilometers (55.9 miles) per hour, while several scuba divers, two jet skis and one boat were on hand nearby in the water to ensure a swift reaction to any possible accident.
Since the overall goal of three to four medals from the pool proved to be too much to expect, new swimming coach Henning Lambertz spoke of a "sobering" overall performance. He is left with the task of assessing what went wrong yet again – and what lessons to learn.