German President Joachim Gauck recalled the more than 100,000 Jews deported and murdered by Nazi Germany after its invasion of the neutral Netherlands in 1940, the German aerial bombing of Rotterdam, the many Dutch forced into slave labor, and Dutch resistance fighters who gave their lives.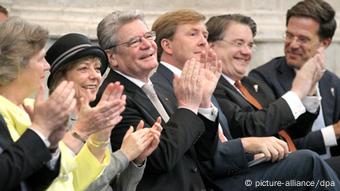 Gauck was the first German to speak at Dutch WWII commemoration
May 5, a Dutch national holiday, marks the moment in 1945 when German forces capitulated in the Dutch town of Wageningen, near Ahrheim on the lower Rhine. The Netherlands, then with a population of about eight million, was freed largely by Canadian troops assisted by British, American and Polish forces.
Gauck in his speech, which was broadcast live on Dutch and German television, recapped his central theme, freedom and responsibility, saying even in times of war individuals could and did make choices, for example, those who tried to save Jewish children.
The Dutch resistance illustrated that people "always had a choice," even in times of war and terror, Gauck said.
Gauck said he as German head of state could not take for granted "that I stand here with you today and that I be allowed to address you."
"We commemorate jointly with everyone the liberation from the National Socialist yoke," Gauck told his audience, including Dutch Crown Prince Willem-Alexander, in the Grote Kerk, the main church in the city of Breda.
Astonished by 1941 protest
While preparing his speech, Gauck said he was particularly surprised to learn about the general strike in northern Holland in February 1941. The Dutch had protested against the deportation of 400 Jews to the death camp at Mauthausen in Austria.
And, had people at the end of the war in 1945 been able to gaze 67 years into the future, then they would regard the present-day partnerships of the Netherlands and Germany within the European Union and NATO " simply as paradisical," he added.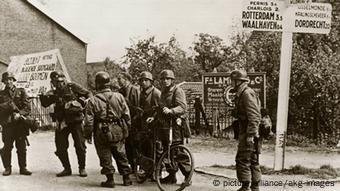 Invaders, Rotterdam, May 1940
In a reference to the recent popular uprisings in northern Africa and the Middle East, Gauck said when authorities abused the fundamental rights of citizens, it was "no longer an internal matter."
Gauck, a former pastor and head of the East German Stasi secret police archives, was elected president in March.
Since taking office, Gauck has visited the diplomatic hubs of Brussels and Strasbourg, and Sweden. His first visit was to Poland.
ipj/ng (AFP, epd, dpa)