Manfred S. was a "very normal family man" who did not arouse any suspicion until he died in August 2014, Detective Frank Herrmann, of the state criminal investigation office (LKA), told journalists in Wiesbaden, the state capital of Hesse in western Germany, on Thursday.
The suspect worked as a gardener and handyman, played the saxophone and was known around Schwalbach as a social person, Herrmann added.
Investigators became suspicious of Manfred S. when his daughter found the remains of a dismembered corpse while cleaning out her father's garage in September 2014, a month after his death.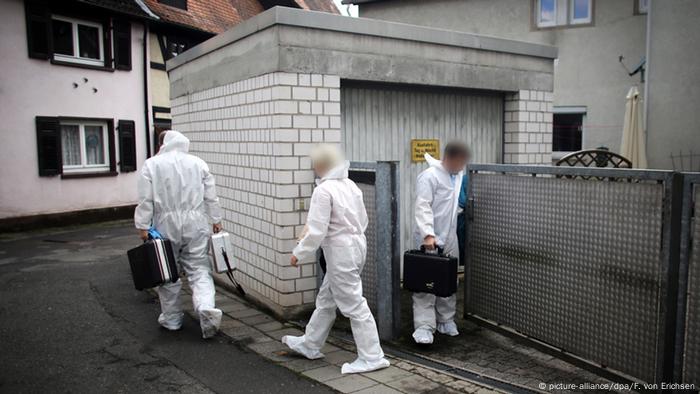 Remains of a prostitute's dismembered corpse were found in Manfred S.' Schwalbach garage in 2014
The body led detectives to believe that Manfred S. was responsible for the deaths of at least five more people, mostly women. The victims were often drug addicts and prostitutes, who hung around the central station in Frankfurt.
Manfred S. is also suspected of having killed two women in the 1970s and two more in the 1990s, also in Frankfurt. Detectives said the victims' bodies were badly disfigured; their hands and legs were cut. The murderer often removed organs from the corpses and took them with him, with different damage inflicted each time.
"If you add them all up, you probably really could create a new body," Herrmann said.
Police also linked the 1998 murder of a 13-year-old boy to Manfred S. Although the victim did not correspond to Manfred S.' pattern, officials said the boy's body had been disfigured in a similar manner to that of the women. Manfred S. was also being linked to two women who had gone missing in 1998 and 1999.
Investigators said they had also found the decapitated heads of two other women, but were not yet sure if these could be linked to the Schwalbach resident.
Meanwhile, officials at Hesse's LKA were continuing investigations, although finding evidence was difficult, Herrmann told journalists.
The state police have launched a public appeal asking if people knew Manfred S. or had any information about his sexual preferences. They cited his time in the German military and in a rehab clinic called Sonnenberg as possible places where people might have met the suspect. Police were also looking for people with ties to the victims in case they could assist the investigation.
mg/msh (dpa, AFP)