Forensics experts tested the bone fragments on Monday as police officers scoured the section of forest in the eastern German state of Thuringia for more evidence.
A statement from the Bayreuth prosecutor said the forensic examination, combined with other items recovered from the site, "indicate the remains most likely" come from Peggy, a 9-year-old who vanished while walking home from school on May 7, 2001.
Authorities were called to the area near the rural Saale-Orla district after a mushroom picker came across skeletal remains there over the weekend. The bones were discovered only a few kilometers from Lichtenberg, the town where Peggy lived.
Her disappearance has become one of the most puzzling missing child cases in Germany. For more than 15 years, no body had been found and authorities remained baffled as to the child's fate.
The final results of forensics tests comparing the recently discovered bones to Peggy's DNA profile are expected to be announced on Tuesday.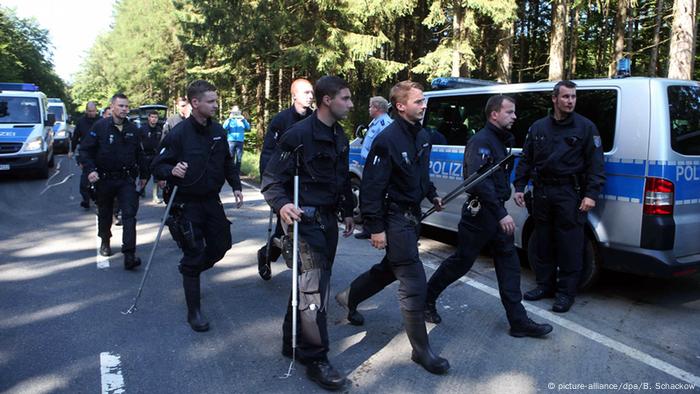 Hundreds of police are combing woodlands in Thuringia for more clues after the discovery of human remains
Unsolved case
Lichtenberg Mayor Holger Knüppel told Bavarian radio he hoped the finding would give the community some closure.
"It would certainly be a step in the right direction… if the investigation can go ahead and clear up the case," he said, adding that "this unexplained murder has become a tremendous burden on Lichtenberg."
Peggy's disappearance 15 years ago sparked a wide-reaching search spanning weeks and even involving the German army's Tornado aircraft. Hundreds of police were deployed to comb caves and forests in the surrounding region.
The public also sent in dozens of tips, but most clues led to dead-ends. In 2004, a mentally disabled man was convicted of Peggy's murder. He was later acquitted in a retrial. Suspicion has also rested on acquaintances of Peggy's family, but no other individuals have been prosecuted.
In an attempt to locate her body, police in 2013 dug up a garden plot belonging to a suspect in the town of Lichtenberg. Although they found bones in that instance, the remains did not belong to Peggy. Authorities also failed to find any trace of the 9-year-old when they excavated a grave at Lichtenberg cemetery in 2014.
nm/tj (dpa, AFP)