Authorities said that the migrants were traveling from Iraq, adding that none of them had passports or other papers. The truck was registered in Turkey, according to the police.
The authorities halted the vehicle near the Polish border early on Saturday to discover a total of 51 people crammed in the trailer. The truck was moving away from the border on a highway leading toward Berlin. The 46-year-old driver, a citizen of Turkey, was detained on suspicion of people smuggling.
According to a police spokesman, the officers were faced with a "harrowing image" after opening the back end of the vehicle. All of the travelers, including 17 children, were thirsty and hungry and some showed symptoms of dehydration.
Read more: Smugglers 'deliberately drowned' migrants near Yemen
Traveling to death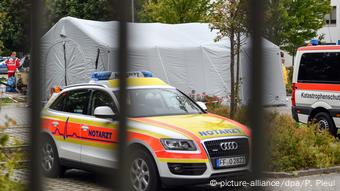 Authorities placed the migrants in a tent before relocating them to a shelter
German officials provided the migrants with food, water and medical attention. The group was temporarily placed in a tent on a police-controlled site in the eastern city of Frankfurt an der Oder. They are expected to be transferred to the nearby refugee shelter in the border town of Eisenhüttenstadt.
Despite tougher border controls alongside the so-called Balkan route, many migrants are still attempting to reach Germany and other rich European countries and ask for asylum. Smugglers based in the Balkans or Turkey charge thousands of euros for the trip, offering rides in overcrowded and often unreliable vehicles.
At the height of the migrant crisis in 2015, Austrian authorities discovered the dead bodies of 71 migrants inside an abandoned truck. The refugees apparently suffocated during the trip to western Europe.
dj/kl (AP, AFP, dpa)