The European Court of Justice has confirmed that the German laws regarding the ownership structures of pharmacies are not in breach of European legislation. In effect that means that each pharmacy has to be owned by a German pharmacist with the required university degree.
In 2006 the German federal state Saarland had for the first time permitted the opening of a branch of the Dutch chain "Doc Morris". Pharmacists have reacted by suing against the decision, referring to the German law requiring a pharmacist to be the owner – and not a chain.
The Saarland government and Doc Morris had insisted that the German rule was in breach of EU legislation and so years of legal strife followed.
A question of profit versus ethics?
At the heart of original German legislation is the idea that a pharmacist who is only hired by a large chain might be subject to pressure with regards to the ethics of his profession. In effect, he might put profit before the health of his customers.
The German government has welcomed the decision by the Luxembourg based court.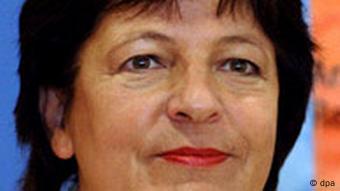 Health Minister Ulla Schmidt says the ruling ensures proper medical supplies
"Keeping a pharmacy as the property of the pharmacist ensures medical supply that's independent of interests of capital and the market," Health Minister Ulla Schmidt said on Tuesday.
The only option left for Dutch company Doc Morris is to strike franchise deals so that German pharmacies are run under the DocMorris label but are nonetheless owned by German pharmacist.
Currently Doc Morris has such franchise deals with around 150 pharmacists in Germany. The company has reacted to the court ruling by saying that they will nonetheless try increase their presence on the German market under the existing regulations.
ai/AP/Reuters/dpa
Editor: Nick Amies