The fatal German-ordered airstrike on two Taliban-captured fuel trucks in September 2009 broke both NATO's rules of engagement and international law, according to a new report submitted to the German parliament by the opposition Green Party on Thursday.
In a separate report, the opposition Social Democrats (SPD) also condemned the airstrike, calling it a political and military mistake. Colonel Georg Klein ordered the airstrike in the northern Afghan province of Kunduz based on poor information, according to both the SPD and the Greens.
The target information, supplied by a single Afghan source, emphasized that the crowd of people surrounding the fuel tankers consisted solely of Taliban. The airstrike killed 91 people, at least 83 of whom were civilians, including 22 children.
Both the SPD and the Greens blamed Chancellor Angela Merkel, who led a grand coalition with the SPD at the time, for "grave errors of judgment." Merkel failed to live up to her promise of a thorough clarification, according to the opposition.
Merkel's current center-right governing coalition had previously submitted reports in which both Klein and ex-defense minister Karl-Theodor zu Guttenberg were cleared of any wrongdoing.
The German parliament, the Bundestag, is set to hold its final consultations on the airstrike in October.
Liquidating the enemy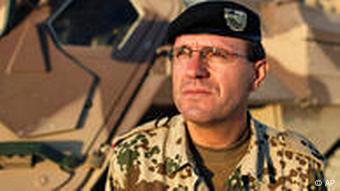 Merkel's governing coalition absolved Col. Klein and Guttenberg of wrongdoing
The roll of a German special forces unit, Task Force 47, in the airstrike remains unclear. Although the opposition maintains Klein alone is responsible for the order, his decision was influenced "to a large extent" by a soldier identified only as "Captain N," a member of the task force.
"False information was the basis of a false decision," said Green parliamentarian Omid Nouripour on Thursday.
Task Force 47's mission is to monitor enemy activity and actively move against Taliban fighters when necessary.
Both Merkel's coalition and the opposition agree the airstrike was not launched to eliminate an immediate threat to German soldiers, as originally maintained, but instead was ordered to "liquidate" Taliban fighters.
Rainer Arnold, the SPD's spokesman on defense policy, questioned whether it was still possible for the German government to maintain basic national principles regarding military force.
"The German government has to answer the question whether the fundamental principal of proportionality when applying military force, and thereby the conditional national ban on targeted killing, still holds true," said Arnold.
Author: Spencer Kimball (dpa, dapd)
Editor: Martin Kuebler