Ali Kizilkaya, chairman of Germany's Council of Islam who recently publicly avowed he was committed to freedom of expression, said Sunday this did not mean he was off to the opera.
"Artistic freedom does not mean you have to watch everything," he said. "Particularly not things that are in bad taste."
In September, the Deutsche Oper in Berlin called off the Mozart opera "Idomeneo" for fear of Islamist threats and attacks because of a provocative scene depicting the Prophet Mohammed's severed head along with those of Jesus, Buddha and the ancient Greek god Poseidon.
However, following a public outcry in Germany over kowtowing to Islamist radicals and accepting constraints on artistic freedom, the show was reinstated.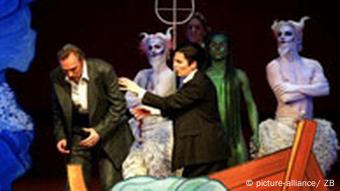 Several religious leaders said they wished the director had taken a different approach
"I'm convinced there are Christians too who are not happy about the portrayal of Jesus in the opera," Kizilkaya told the dpa new agency. "I would have preferred a more respectful approach."
Germany's most senior Lutheran bishop, Wolfgang Huber of Berlin, criticized the decapitation scene as "not ideal" and said he also would have like to have seen the opera take a different approach.
German-Islam summit members invited
The German Interior Ministry had said Saturday that minister Wolfgang Schäuble was paying for 15 leaders of the Islamic community to attend the opera next month.
The 15 are taking part in two years of talks with the government on better integration and treatment of German Muslims. Schäuble announced at a first meeting with the leaders in September that they all supported "Idomeneo" and had agreed to attend it.
The anti-religion scene, not in the original Wolfgang Amadeus Mozart opera, was devised by director Hans Neuenfels in 2003 and shows the hero laughing at the religious figures' severed heads towards the end.