The western German town of Krefeld has scrapped plans to sell a painting by Monet, the most precious canvas in its local museum, to raise money to repair its leaking roof, a spokesman said on Friday.
The proposal of parting with the 20 million euro ($25.5 million) Monet, which outraged the German art world, was nearly unanimously voted down by the town council on Thursday night.
"The Monet sale in Krefeld is no longer on the table," the museum's spokesman said. "This was decided after three months of deliberations in which we took into account the nationwide debate."
Debate has drawn visitors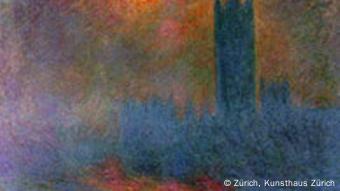 The spared painting was part of this series depicting the London Parliament
He added that the debate has generated massive interest in the painting, which is one of a series by the French Impressionist master depicting the Houses of Parliament in London.
The painting was donated to Krefeld's Kaiser Wilhelm Museum in 1907 and never attracted much publicity until earlier this summer, when the cash-strapped town council considered selling the work after its culture department warned that the museum urgently needed repairs that would cost roughly 6 million euros.
City officials said earlier this summer that Krefeld, near the Dutch border, made a poor home for a Monet, with no other Impressionist art in town.
The museum has not been renovated since the 1960s, and it has a leaking roof and the air conditioning is reportedly in such poor shape that some paintings had to be put into storage during the summer to protect them.
Berlin nixed sale and museum agreed
But when the plan became known in Berlin, a bankrupt city with a vast collection of art treasures, cultural representatives and curators said it was unthinkable.
Claude Monet was inspired by his garden in Giverny, France
"If you push the idea to its logical conclusion you end up with the frightening notion of a completely renovated gallery with nothing to put in it," said Bernd Lindemann, head of Berlin's Gemädegalerie.
The mayor of Krefeld warned the council this week that if it sold the Monet it could not spend all the money on the museum but would be obliged to plough most of the cash into other pressing projects.
Monet takes off for Japan
The council is now considering selling its shares in the energy supplier RWE instead to raise the money needed for the museum's renovations and has agreed to lend the Monet to the National Art Center in Tokyo for a three-month Monet exhibition beginning in March.