Germany's 500 billion euro ($637 billion) rescue package for its financial sector could be used to stir up feelings of social injustice that would benefit far-right parties, if Germans blame unbridled capitalism for the current economic downturn and lose faith in the country's economic order, German Finance Minister Peer Steinbrueck said Tuesday, Nov. 11.

"It's not just this figure people can't get their heads around, they also can't fathom what's happening on financial markets, with this stream of newly innovated products, the names of which hardly anyone can make sense of," he said in a speech in Berlin.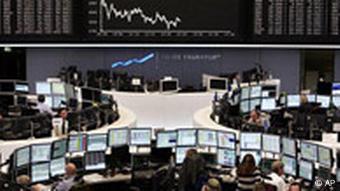 Not all Germans are clear how the financial crisis affects them
Germans could connect excessive pay, corruption and tax evasion with the financial sector's collapse, leading to what Steinbrueck called a "crisis of legitimacy."
Noting that economic upheaval had preceded the rise of the Nazis to power, he said there was a risk voters would conclude that the system no longer measured up to their expectations.
People might then choose either to stop voting, or to throw their support behind politically extreme movements seeking to exploit the situation, the minister said.
Cuts to managers' benefits
In order to keep support among the public, the German government committee is reportedly working on a plan to limit the benefits companies provide their top executives," German business daily Handelblatt reported Wednesday.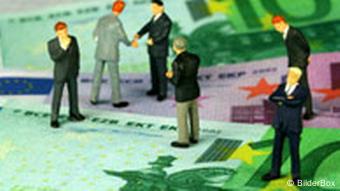 The government is considering limits on executives' benefits
"With a social market economy and fairness in mind, it seems necessary to introduce legal measures that ensure the relationship between managers' compensation and performance is brought back to an acceptable level," the papers said, quoting a draft of the committee's report.
The proposals, which are scheduled for further deliberation on Thursday, reportedly include the ability to reduce managers' salary retroactively when the company performs poorly, to limit top salaries at state-owned companies and to allow the entire board of directors, rather than a directorial subcommittee, to decide on executives' pay.