On Sunday night, Germany looked like contenders to win the World Cup. This Friday, they didn't look that part at all, committing error after error on the way to a deserved loss to Serbia.
The two young heroes of the Australia match, Bayern Munich's Thomas Mueller and Mesut Oezil of Werder Bremen, showed little of the decisiveness and precision that marked their play last weekend. Easy passes went astray and their dribbling runs ran not toward dangerous areas but into dead ends. Both were eventually substituted.
Left back Holger Badstuber also had a poor afternoon. In a performance reminiscent of his nightmare evening against Manchester United in the first leg of Bayern Munich's Champions League quarterfinal when he was tandem-tortured by the side-swapping Park Ji-Sung and Nani, the 22-year-old got beat down the wing again and again.
This time it was Milos Krasic, the CSKA Moscow winger, who got the better of Badstuber, and indeed it was one of Krasic's crosses that led to Serbia's lone goal.
But in truth Germany's day was spoiled not so much by its youngsters having a hangover after last weekend's rager as it was by its seasoned players having off days as well. Nearly to a man, Germany's team played under their capabilities.
Roll call
Most at fault on Serbia's goal was center back Per Mertesacker. He sensed a mismatch in the making when he saw Krasic's ball floating in for Nikola Zigic, who was marked by the much shorter Philipp Lahm, and backpedalled to help. The Bremen defender was too late in arriving, however, and Zigic found Milan Jovanovic (Mertesacker's man) all alone in the box for an easy goal.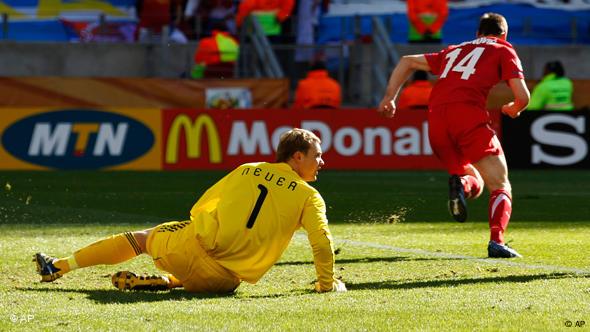 Neuer was no match for Jovanovic, who'd been left unsupervised by Mertesacker
Striker Lukas Podolski must share a great deal of the blame for this loss as well, showing a bit of his club form in a Germany shirt. As he does with FC Cologne, Podolski looked at times to be out-of-sync with his teammates - passing too early or too late, or taking cracks at goal when others were in better position to score.
He also presented a textbook example of how not to take a penalty in the 59th minute - neither toward the corner nor down the middle.
Podolski himself didn't think his shot was so poor, but nonetheless admitted its pivotal role in the game slipping away from Germany.
"I have to hold my hand up to the miss," Podolski said. "The defeat is quite bitter. We could have done with a win, which would have taken us a step closer to the last 16."
Holding midfielder Sami Khedira had a reasonable game defensively, keeping Serbian attacks from plunging down the middle, but his weakness as a finisher - notable from the Australia game, when he missed two sitters - came back to haunt Germany.
Handed a golden chance to volley the ball home for an equalizer in first-half injury time, Khedira managed instead to hit the crossbar.
Pivotal role
What turned the match, however, was striker Miroslav Klose's sending off in the 37th minute. The Bayern striker had already been booked in the 12th minute, and should have known better.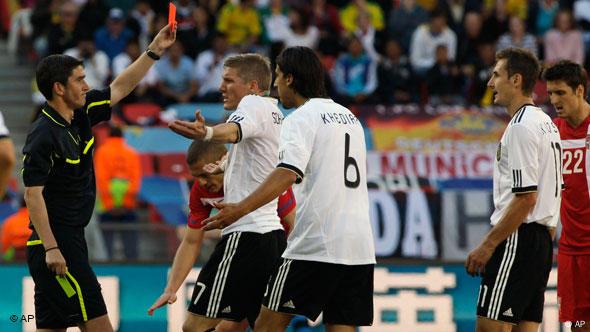 Schweinsteiger and Khedira couldn't talk Undiano out of sending Klose off.
His challenge was nothing special - indeed he caught a bit of the ball before catching Dejan Stankovic's legs. But the tackle was from behind, and Spanish referee Alberto Undiano had already established his card-happy bona fides early in the match. Indeed, he had handed out four yellows in the opening 22 minutes. (And ended the match having shown nine, for those of you counting at home.)
Coach Joachim Loew refused to blame Germany's loss on the referee, but was clearly displeased with how he had called the game.
"We had eight yellow cards and a yellow-red," said Loew. "I think this was not necessary. There were a couple of tackles where I felt the yellow cards were justified, but there were many given for tackles that weren't malicious at all and could have been avoided."
It was Klose's failure to recognize what kind of official he was up against that put the entire team under pressure. Down to 10 men, Germany began to play a rushed game full of imprecision on the offensive end, and one that left space galore on the defensive end. It was only profligate finishing from a host of Serbian attackers that kept the narrow margin from turning into a landslide.
Group D comes alive
With the German loss, Group D is wide open and all four teams will fancy their chances to move on - if they can get results.
After two games, Germany and Serbia have three points apiece and will be going all out in their third matches against Ghana and Australia, respectively.
Ghana, who play Australia on Saturday afternoon, will meanwhile be hoping to sew up an inside track to the second round with a win over the Socceroos.
Even Australia, who looked so desolate in falling 4-0 to Germany last weekend and losing their talismanic playmaker Tim Cahill to a red card suspension, will be feeling rejuvenated after Serbia's win. A win against Ghana and all four Group D sides are level on three points.
Author: Matt Hermann
Editor: Martin Kuebler