A US federal appeals court has for the time being halted the deportation of the alleged Nazi war criminal John Demjanjuk. The ruling came hours after US agents took Demjanjuk from his Ohio home to deport him to Germany.
He has meanwhile been released from federal custody and allowed to return home with an electronic tracking bracelet around his ankle, the US Immigration and Customs Enforcement said.
Frail Demjanjuk
Two judges from the federal appeals court in Cincinnati had ordered the deportation be stopped while it weighed whether Demjanjuk deserved another hearing and prosecutors' response that the legal case was at an end.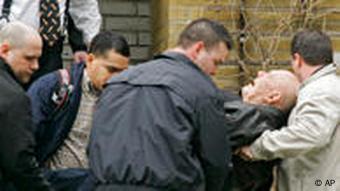 Demjanjuk's attorneys say he is too ill to be deported
Demjanjuk's son had petitioned the court to consider whether deporting his 89-year-old father to Germany amounted to torture, because of his frail health.
German lawyer Ulrich Busch argued Wednesday that Demjanjuk was unfit to face trial because he needed chemotherapy for a kidney tumor. "It's either chemotherapy or a trial," he said.
He had been scheduled to be flown immediately to Munich, where he faces charges in the deaths of 29,000 Jews. Prosecutors in Germany accuse him of being an accessory in 1943 killings at Sobibor death camp, where he is alleged to have personally led Jews to the gas chambers at the camp in Polish territory then occupied by Nazi Germany.
The German government said Wednesday it was hopeful of a swift decision on the fate of Demjanjuk. A spokesman for the German Justice Ministry said authorities were prepared for an imminent decision, but conceded they had "no updated information" over the internal US deportation process.
German officials would become involved from the minute Demjanjuk sets foot on German soil, the spokesperson added.
A case of identity
The retired auto industry worker has denied any role in the Holocaust. He said he was drafted into the Russian army in 1941, became a German prisoner of war a year later and served at German prison camps until 1944.
However, former wartime inmates of Nazi camps in occupied Poland identified Demjanjuk -- who changed his name from Ivan when he emigrated to the United States in 1952 -- as the notorious Ukrainian prison guard "Ivan the Terrible" during a 1977 US Justice Department investigation.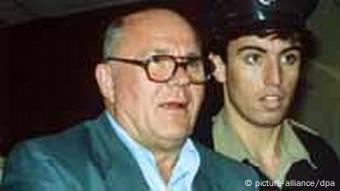 The Demjanjuk case has been played out on three continents since the end of World War II
Demjanjuk was sentenced to death by a court in Israel in 1988, but his conviction was overturned five years later by Israel's Supreme Court after statements from other former guards identified another man as the sadistic "Ivan."
He was returned to the United States despite objections from Holocaust survivors and Jewish groups who said he should be retried based on the evidence that he was a guard at several camps.
Demjanjuk regained his US citizenship, which was first stripped in 1981, after an appeals court ruled in 1998 the government withheld exculpatory evidence.
The US government filed new charges a year later using fresh evidence that surfaced following the collapse of the Soviet Union. Demjanjuk was again stripped of his US citizenship in 2002 but remained in Ohio long after his appeals of that decision were exhausted because the United States could not find a country willing to accept the now-stateless alleged war criminal.
The latest legal battle has dragged on for more than a month since Germany issued a warrant for Demjanjuk's arrest on March 11.