Germany's foreign minister, Guido Westerwelle, offered a stark reminder Thursday that Turkey's accession to the European Union was by no means a foregone conclusion.
While opening a new cultural center in Istanbul, Westerwelle said the road to Turkish EU membership could be slow, and would not be "today or tomorrow."
He did, however, praise Turkish efforts to reduce the role of the military in government and reform the country's constitution.
"The balance between civilian government and the military has been re-adjusted," Westerwelle said. "That has great significance for the constitutional process."
Westerwelle has been one of the few proponents within the German government supporting an eventual place for Turkey in the EU. The topic remains highly divisive in Germany, however, with many senior politicians preferring Ankara be granted a so-called privileged partnership within the European community, rather than full membership.
Tensions over Cyprus
Turkey, which has been jumping through hoops trying to enact reforms to meet EU criteria since 2005, has had to sit and watch as other EU hopefuls like Croatia and Iceland pass it by on the long road to eventual membership.
Ankara's relationship with the EU member state Cyprus remains a source of tension with Brussels. Turkey is the only country in the world that recognizes the ethnically Turkish northern third of Cyprus as the Mediterranean island's legitimate government. Last month, Ankara dispatched warships to the island in an ongoing dispute with the southern Greek Cypriot government over gas exploration.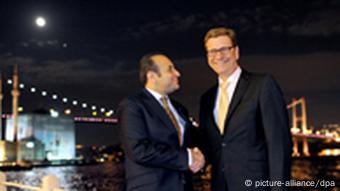 Westerwelle has been a supporter of Turkey's EU hopes
"We see that there is a one sided perspective in the EU when it comes to Turkey's international work, primarily on the Cyprus issue, and we feel seriously disturbed by this," Turkish Foreign Minister Ahmet Davutoglu said.
Further negotiations
Just this week, the European Commission officially recommended the troubled Balkan nation of Serbia be given candidate status after its efforts to bring to justice known Serb war criminals.
Westerwelle pledged to push for the next phase of Turkey's accession negotiations in order to prevent a standstill in the process.
Westerwelle also touched on allegations that German institutes have either directly or indirectly supported the banned Kurdish group, the PKK, which has been engaged in an armed struggle against the Turkish state for over 20 years.
He reiterated that in Germany the PKK was still considered a terrorist organization.
During his stay in Turkey, the German foreign minister met with the country's foreign minister, Ahmet Davutoglu, and Prime Minister Recep Tayyip Erdogan.
Author: Darren Mara, Spencer Kimball (AFP, dpa)
Editor: Martin Kuebler