It's Frank-Walter Steinmeier's first visit to China since taking office last year and he's already ensured that he won't be merely echoing former Chancellor Gerhard Schröder's foreign policy stance towards Beijing.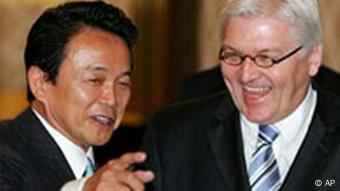 Steinmeier, right, with his Japanese counterpart Taro Aso
Speaking at an event at the National Japanese Press Club in Tokyo on Tuesday, Steinmeier said Germany was no longer explicitly in favor of lifting the EU arms embargo on China. The foreign minister pointed out that the present government grand coalition of Social Democrats and Christian Democrats were in favor of deciding the issue on a European level.
At the same time Steinmeier added that Germany already had one of the strictest export restrictions in the EU and added that even a lifting of the EU arms embargo wouldn't lead to "a more liberal approach (towards China) in Germany." The latter was also one of former Chancellor Schröder's main arguments as he pushed for the EU to drop the existing arms ban.
Business high on the agenda
But, away from the arms embargo issue, which is unlikely to go down well with Chinese leaders, much of Steinmeier's visit is likely to be consumed by business talk.
Germany and China have cooperated closely in the areas of culture, science, environmental protection. The two countries are engaged in a dialogue about the rule of law and -- last but not least -- have established strong business ties.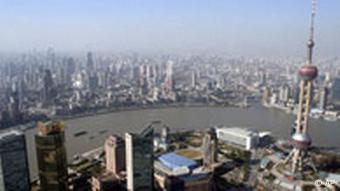 A view of the Shanghai skyline
Germany is China's strongest European economic partner and China remains Germany's most important market in Asia. Former German Chancellor Gerhard Schröder has played a central role in promoting these ties: During his time in office, he traveled to the country six times, a large delegation of German business leaders in tow.
Steinmeier will also visit China with a group of representatives from German companies -- albeit mid-sized ones. As he already announced when taking over the foreign office from his predecessor, Joschka Fischer, Steinmeier seems to see the support of German business interests as one of his ministry's duties.
More pushy than Schröder?
While Steinmeier served as Schröder's chief-of-staff and was likely supportive of the latter's pragmatic approach towards China and Russia when it came to addressing human rights, as foreign minister, he's not going to be able to avoid the issue, according to experts.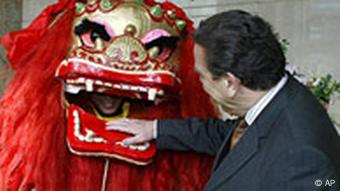 Former Chancellor Schröder inspects a traditonal Chinese dragon
"He knows that this is an important element of German domestic politics," said Eberhard Sandschneider, an expert on China at the German Council on Foreign Relations. "The German public expects a German politician to address this sensitive topic. But Frank-Walter Steinmeier is experienced enough to know that he will not be able to bring about any immediate changes this way."
Members of China's opposition in Germany still have high hopes for the new German government. Last week, they sent a letter to the foreign ministry to inform the minister about the human rights situation in China.
Urging more participation as global player
But apart from this rather unpleasant topic for Steinmeier's hosts, the foreign minister will also try and encourage China's leaders to step up to the plate when it comes to taking on responsibility as a world power.
"Such an emerging giant needs to take on global responsibilities," said Steinmeiner, who will also prepare Chancellor Angela Merkel's visit that's likely to take place in July.
"He really means the question of how to deal with Iran," Sandschneider said. "China has a very, very important role to play -- in case of a vote in the UN Security Council, for example. Getting China to actively cooperate with the West in this respect is an important goal."
The problem of copyright protection
Copyright protection will be another item high on Steinmeier's agenda as the Chinese are known not to take this too seriously. German companies meanwhile lose billions each year because of product piracy. And only last week, China announced plans to build its own high speed train based on the German-made Transrapid magnet rail, pushing the problem if technology theft in the foreground yet again.
"It's a very difficult issue for many German companies and German foreign policy," Sanschneider said. "It will certainly be discussed, but the Chinese answer is already clear: The government will signal that it is working to improve the situation, but that it will take years for this to happen."