Kristina Koehler, a member of Chancellor Angela Merkel's Christian Democrats, was chosen as family minister on Friday as part of a cabinet reshuffle.
Koehler's nomination is also no doubt aimed at improving the Christian Democrat's profile among younger voters. True to her generation, she can be found on the social networking site Facebook and also posts on Twitter.
Tweeting on Sunday, she said she was surprised by the focus on whether she would continue to use the Internet application.
"I'm not going to give up letter writing, either," she wrote.
In her first interview since taking office, Koehler told the Bild am Sonntag newspaper via email that she wasn't about to abandon applications like Twitter and Facebook just because she had been promoted to cabinet.
She said although it was "absurd" to consider all of her 600 Facebook contacts as friends, she found the site useful for spreading her political message.
Career move
Until now, Koehler, a member of the Bundestag's internal affairs committee, was mostly known for speaking out on topics such as extremism and the integration of foreigners.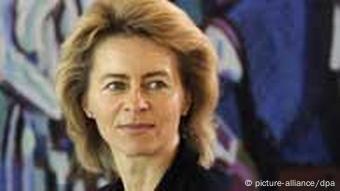 Ursula von der Leyen, Koehler's predecessor
She takes over the family ministry from Ursula von der Leyen, who is moving into the labor ministry. Koehler is expected to continue her predecessor's policies that aim to make child-rearing less expensive in Germany.
But in other respects, Koehler couldn't be more different from von der Leyen, a 51-year-old working mother of seven.
Koehler joined the youth wing of the Christian Democrats at the age of 14, already clear in her mind that she was destined for a career in politics.
Now she is one of three relatively young ministers alongside fellow Christian Democrat Defense Minister Karl-Theodor zu Guttenberg, 38, and Health Minister Philipp Roessler, 36, from the pro-business Free Democrats.
nw/dpa
Editor: Kyle James