A continuing construction boom has joined exports and private consumption as a pillar of Germany's economy. Historically low mortgage interest rates and the need for affordable housing for refugees are keeping building authorities, architects and tradespeople more than busy.
So far this year, authorities have awarded 26.1 percent more building permits than they did in all of 2015. Germany's BDI industry lobby continues to anticipate an annual demand of 350,000-400,000 new apartments per year.
On the other hand, there are also many buildings that are being torn down, with, in many cases, the rubble simply dumped. Angelika Mettke (pictured), a civil engineer and university professor at the Brandenburg University of Technology, considered this a waste of resources and, along with the entrepreneur Walter Feess, set to work researching different approaches and methods to reprocess concrete.
Feess, from the southwestern town of Kirchheim Unter Teck, recycles concrete, asphalt and building rubble with his company in the state of Baden-Württemberg. His company is the first in Germany to be given EU approval for the production and use of recycled concrete in building construction. Now, he and Mettke will have their efforts recognized with the German Environmental Award. "If this innovation and commitment were implemented by the entire construction industry, approximately one-third of the demand for raw materials would be covered by recycling," the jury of the German Environmental Foundation (DBU) announced.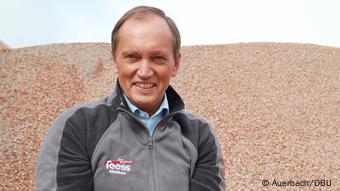 Feess was called a "green angel" for undertaking environmentally friendly practices
A concrete boom
It is much quicker to cast walls or floor foundations out of liquid concrete than to build them stone by stone. In a solid state, concrete retains warmth, transfers coldness, dampens sound and creates a pleasant atmosphere. It provides protection against the damp as well as fire and is malleable, long-lasting and optically unobtrusive. Choosing concrete over natural stone, interlocking paving stone or wood preserves resources and thereby protects natural plant and animal environments.
Concrete is a cement mixture that includes gravel, sand, binding agents and water; it can be produced in a cement mixer at any building site. This saves on transport costs.
Though it is otherwise generally low-impact, concrete has one of the most energy-intensive production processes. The production of cement requires grinding up limestone, clay, sand and iron ore and then burning these materials at over 1,000 degrees Celsius (1,800 F).
This process involves high energy consumption and releases environmentally damaging carbon dioxide into the atmosphere. In 2012, about 4 percent of global CO2 emissions came about from concrete production.
'An annoyance'
After a building is demolished, the concrete gets dumped in the countryside. Angelika Mettke, who grew up in East Germany, described this as "an annoyance." After the Berlin Wall came down, she watched wrecking balls tear apart prefab high-rise concrete apartment buildings known as "Platte" across the former east. "There is so much raw material and energy in concrete slabs, and that is why I was particularly concerned to maintain them in the supply chain, especially in building construction," Mettke has said.
The problem is that concrete becomes contaminated because it absorbs environmental pollutants such as oil, fuels and paint through its surface. Feess developed a washing system that allows valuable and slightly polluted raw materials to be reclaimed and supplied for recycling.
Recycled concrete has the same properties as newly poured concrete. This has been shown in practice. For example, the laboratory building belonging to Berlin's world famous Charite hospital was built almost entirely out of recycled concrete. Berlin's Senate has decided that in the future high-rise buildings will use recycled concrete. In the meantime, 30 residential, sport and community buildings have been built from reclaimed concrete slabs in eastern Germany. In a field test, Mettke was able to show that reusing concrete elements improves the stability of embankments in flood-prone areas.
This Sunday in Würzburg, Mettke and Feess will receive their award from German President, Joachim Gauck. They will be sharing the 500,000-euro ($545,000) prize with Bas van Abel, the founder of Fairphone. from the Netherlands, he has developed and marketed a smartphone produced under fair conditions.
"The current throwaway mentality is not an option for the future," said Rita Schwarzelühr-Sutter, a member of the DBU jury and the parliamentary secretary at Germany's Environment Ministry. "Through their pioneering spirit, this year's prize winners have shown us new ways to go forward and new perspectives." The three prize winners are creative trailblazers for the sustainable use of valuable resources.