A German Environment Ministry position paper made public Wednesday proposes that Germany's auto sector "ambitiously" trim carbon-dioxide vehicle emissions by one-quarter by 2025 and by 50 percent by 2030.
Lesser goals of 15 and 30 percent had been proposed by EU officials last November.
Read more: When driving isn't fun anymore
Only with the ambitious interim goal for 2025 - tailored to auto sector development cycles - would efficiency gains "reach car fleets by 2030," said the paper disclosed by Politico Europe.
Without those goals, Germany would fail to fulfil its share of UN climate saving pledges, said the paper, but an electric vehicle head-start would benefit Germany industry - instead of falling further behind keen Asian manufacturers.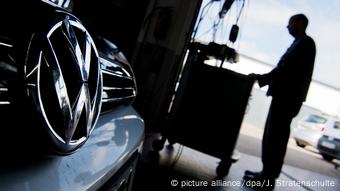 Know-how and jobs in for a shakeup
"It is of critical importance that investment in low and zero-emission technologies take place in the EU and Germany," said the paper, warning of long-term risks otherwise for Europe's standing as an automobile location and job provider.
'Justified,' says Schulze
German Environment Minister Svenja Schulze, of the trade union-affiliated Social Democrats (SPD), said she regarded the electrification push as "justified," insisting that "made in Germany" would only prevail as a slogan "if we begin to set the necessary framework parameters today."
"Transport contributes significantly to climate change. Only clean vehicles with low-damage or climate-neutral emissions belong to the future," Schulze said.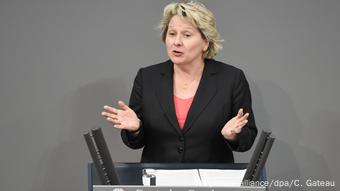 Schulze: Accelerating electric car push 'justified'
The ministerial paper stresses that its proposed one-quarter drop in CO2 emissions by 2025 will be crucial in bringing about a climate-saving switch to electric mobility in Germany.
Currently, less than two percent of vehicles on German roads are electric or electric-hybrids.
Inaction will be costly
Waiting until 2030 and accepting lesser strictures would lump Germany with an excess of 10 million tons of carbon dioxide (CO2), which would require purchases of increasingly expensive worldwide emission certificates, says the Ministry.
It was of "great importance" that vehicle emission cuts be quickly put into place so that new vehicle fleet innovations "fully unfurled" by 2030, leading to "substantial" reductions in harmful gas in the following decades, the paper said.
Move beyond 'negative headlines'
Transport Minister Andreas Scheuer of Bavaria's conservative Christian Social Union (CSU), which faces regional polls in October, urged Germany's auto sector to move beyond "negative headlines" of "dieselgate," the emissions cheating scandal that broke in 2015 at Volkswagen and spread to other German car makers, such as Audi.
Hundreds of thousands jobs were at risk and "all participants must have finally heard the 'bang'," said Scheuer, referring to Germany's slow conversion compared to newcomers such as Tesla.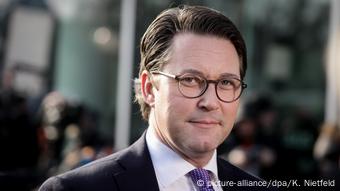 Diesel 'bang' must have been heard, says Scheuer
Fraunhofer estimate
Some or 75,000 – or one in eight – jobs in Germany's traditional combustion engine motoring sector could be lost to electric motorization by 2030, according to a Fraunhofer Institute study done for labor organizations, published Tuesday. Worst hit would be smaller auto parts suppliers.
Parallel, some 25,000 new jobs would be created.
Volkswagen staff council chairman Bernd Osterloh said electric car propulsion components were only one-sixth compared to motors in petrol and diesel-powered vehicles.
Batteries, currently regarded as insufficient, would in the future be produced in highly automated factories in which human beings had oversight tasks, he added.
"We will develop new areas of business and products and further train staff," said Bernard Mattes, president of Germany's VDA automobile federation.
Climate protection and securing employment must be pursued "equally" by the government, said Mattes.
Last weekend, business magazine Wirtschafts-Woche (WiWo) said the auto industry remained alarmed by EU's "overhasty" introduction of the Worldwide Harmonized Light Vehicle Test Procedure (WLTP) for emissions from September.
As of September 2019, "real driving emissions" will apply.
Automakers had been confronted with getting some 500 approvals for aspects such as tire pressure, gearboxes and battery levels, resulting in new car model delays, said WiWo, citing the VDA.
ipj/kms (Reuters, dpa)
<div class="opinary-widget-embed" data-poll="which-is-the-greatest-environmental-thre" data-customer="deutschewelleeng"></div>
<script async type="text/javascript" src="//widgets.opinary.com/embed.js"></script>