In an open letter published in the German newspaper Frankfurter Allgemeine Zeitung (FAZ) on Tuesday, a group of 154 German economists have thrown more cold water over the French president's proposals for eurozone reform, warning against turning the European monetary and banking union into a "liability union."
The economics professors, including Jürgen Stark, a former board member of the European Central Bank (ECB), and the former head of the Ifo think tank, Hans-Werner Sinn, warned that Macron's proposals "pose great risks for European citizens."
Under ideas put forward by Macron and European Commission President Jean-Claude Juncker, the 19-nation currency union should introduce a eurozone finance minister with a budget of their own.
In addition, they want to encourage risk-sharing among its members by creating a bigger backstop for the Single Resolution Fund — a mechanism aimed at unwinding insolvent banks. Furthermore, the eurozone rescue fund — known as European Stability Mechanism (ESM) — should be turned into a European Monetary Fund (EMF), giving national governments a greater say in its policy.
Germany has so far proved to be a stumbling block for the initiative, because Berlin is not convinced that increased burden-sharing will make the eurozone, notably its banks, healthier.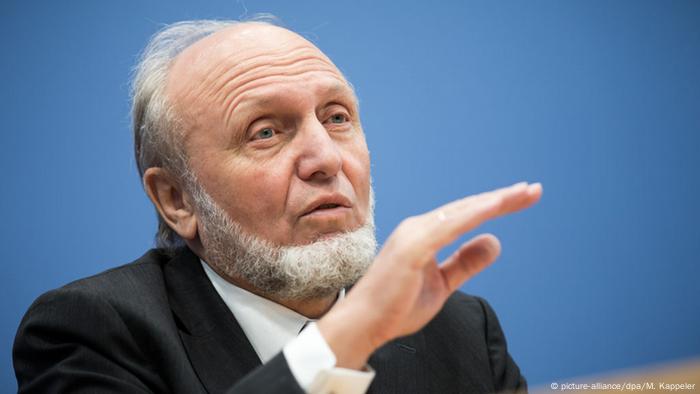 The prominent German economists, including Hans-Werner Sinn, urge the government to resists Macron's plans, saying it was "important to promote structural reforms instead of creating new lines of credit and incentives for economic misconduct."
Structural reforms
In their letter, the economists showed themselves to be opposed to virtually every measure proposed by Macron and Juncker. A newly-created European Monetary Fund (EMF) they said would be ineffective because it would be "under the influence of countries that are not members of the eurozone." Using the EMF as reinsurance for struggling banks would merely "reduce the incentive for banks and regulators to clear bad loans at the expense of growth and financial stability."
A planned European investment fund and another fund aimed at supporting structural reforms would result in "further transfers and loans to eurozone countries that have in the past failed to carry out the necessary reforms," they wrote.
The creation of a European finance minister the economists believe would "make monetary policy even more politicized," and the creation of a common deposit insurance scheme for the eurozone would "socialize the cost of mistakes that banks and governments have made in the past."
The liability principle was "a cornerstone of the social market economy," the economists said, noting that a "liability union" undermined growth and prosperity in Europe, which was already "evident in falling wages for more and more people, particularly young people."
Therefore, the economists have called on the German government to "return to the basic principles of the social market economy," and to ensure that progress was made through structural reforms instead of issuing new credit lines and incentives for "economic misconduct." An "orderly insolvency procedure" for eurozone countries failing to adapt and an "orderly exit procedure" should be part of the reforms, they added.
Huge divisions
French Economy Minister Bruno Le Maire is due to meet his German counterpart Olaf Scholz in Berlin on Wednesday in an attempt to win his support for Macron's roadmap for the future of the eurozone.
He aims to forge Franco-German agreement on a plan to be presented to EU leaders at a summit on June 28-29. Le Maire has already warned the EU's single currency bloc risks collapse unless it is significantly reformed.
Read more: Opinion: With Emmanuel Macron, the EU still has a chance
So far, however, Berlin seems ready to accept only the transformation of the ESM into a facility to wind down bad banks. German Chancellor Angela Merkel is adamant that her country won't take on greater risks and that individual members must take responsibility for themselves within a currency union.
Read more: Is Emmanuel Macron Europe's new Angela Merkel?
Macron has sought to publicly keep up the pressure on Merkel, emphasizing that he has shown himself to be a credible partner through his domestic economic reform agenda.
"I expect a lot from the German response. France has proposed, France has reformed, France has waited. This coming summer is a moment of truth," he said in Sofia earlier this month.
However, diplomats in Brussels believe Berlin favors an alternative reform agenda put forward by a group of the eurozone's northern members including the Netherlands and Ireland.
That agenda emphasizes the responsibility of national governments for keeping their public finances in order, with the Netherlands in particular setting out strict conditions such as bring down banks' stockpiles of bad loans, and new rules to make sure banks are not overexposed should their home government default on its debt.
uhe/jd (Reuters, AFP, dpa)