A state superior court in the city of Cologne ruled on Tuesday, Nov. 27, that the Web site spickmich.de and the teacher rankings on it were protected by constitutional freedom of expression rights as long as the comments were not defamatory.
The Cologne judge's verdict upheld a lower court ruling, which also rejected the teacher's application for a closure order. A German union representing teachers and other educators (GEW) has said it would exhaust all legal avenues to close the site. Further proceedings are expected next year.
"We need an impartial dialog between students and teacher," said Andreas Meyer-Lauber, chairman of GEW in the state of North Rhine-Westphalia. "The Internet is not an appropriate medium for internal school feedback and self-evaluation."
Guide for students and teachers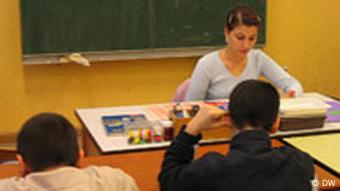 Students need to register with spickmich before leaving their opinions
After registering with the site, students can vote on a scale from 1 to 6 in several categories, such as, "motivated," "cool," "highly prepared in class" and "gives fair marks." The site's operators removed the categories "sexy" and "ugly." At least four voters are required for a valid poll and all votes and comments are accompanied by the user's name.
Many teachers are vehemently opposed to the site, saying no teacher should be graded without consent. The Cologne judge, however, said the site could "serve as a guide for students and parents and could lead to desirable communication, interaction and added transparency."
Teachers getting good grades
Started by three Cologne university students, the site's founders said it has more than 400,000 students registered as users and ratings for over 150,000 teachers. Bernd Dicks, one of the founders, said the rankings showed pupils were generally satisfied with their teachers.

Another founder, Tino Keller, said the site created a channel of communication and made teacher assessments more transparent.
"Instead of calling for ban, teachers should make more use of the Internet and realize the technological developments can't be reversed," he said in a statement. "It's a chance, not a threat."