The installation planned for Silverton/Broken Hill, which would include 500 turbines, in the continent's south-east region would generate enough electricity for 400,000 homes and save greenhouse gas emissions of three million tons of carbon dioxide annually, according to DPA news agency.
"Silverton Wind Farm will be one of the largest in the world once it's operational, with the potential for almost 1,000 megawatts of renewable energy capacity," Andrew Durran, executive director of Hamburg-based Conergy's Australian subsidiary, Epuron, told DPA.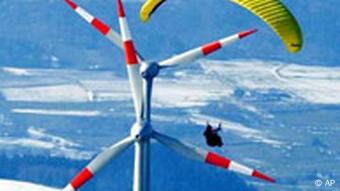 Some unexpected perils to wind turbines
The company said that construction of the wind farm could begin this year. Once in operation, it could meet 4.5 percent of electricity demand in Australia's most populous state, New South Wales.
Durran said that construction could be completed within three years if demand is great enough; otherwise, the farm would be completed in four to five years.
Could help meet Australia's climate goals
The project is slated to cost around 1.43 billion euros ($2.1 billion) and could contribute to meeting the new Labor government's target of 20 percent of Australia's power needs being met by renewable sources by 2050.
Currently, coal-powered stations generate more than 80 percent of electricity in Australia, with the rest coming from hydro-power stations.
According to project managers, four landowners near Silverton, around 25 kilometers (15 miles) from Broken Hill, in western New South Wales, have agreed to host the installation. The windmills are to be set up along a series of ridges outside Silverton.
Germany: Pioneer in wind technology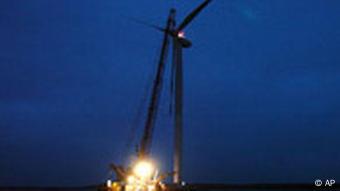 Installing wind turbines offshore is a tricky business
A popular tourist destination, Silverton has been featured in the Mel Gibson film "Mad Max II" and in many television commercials. Its windswept, sparsely populated area lends itself to such a project.
While critics commonly loathe wind mills as blights to the landscape and a menace to migrating birds, Silverton's "townspeople ... recognize the jobs and economic benefits from this project," Durran told DPA.
Germany has often been a pioneer in wind turbine engineering. Among other developments, in 2007, Norwegian energy group Norsk Hydro and German firm Siemens announced that they had joined forces to research and build a floating wind turbine. Placing wind mills off-shore could provide an alternative to spoiling landscapes or interrupting migrating bird paths.