German coach Joachim Löw and his players have already turned their thoughts to Sunday's final against Argentina at the Maracana in Rio, and specifically to thwarting four-time player of the year Lionel Messi. Löw's assistant Hansi Flick said that the means to marginalize Messi were already in the works.
"Of course we all watched closely as the Netherlands managed to keep Messi in check," Flick said. "We have also played Argentina several times and most certainly have a plan, one that I won't be revealing."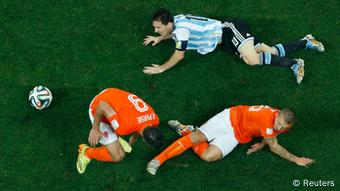 Even when the Dutch hobbled Messi, it usually took a tag-team
The Netherlands' plan, in short, was for one player, usually Nigel de Jong, to shadow Messi at all times, with more diving straight into the fray if the number 10 had the ball at his feet. Despite a few flashes, Messi's impact on the match was only minimal. Argentina booked their place in the final against Germany with a penalty-shootout win against the Dutch on Wednesday. Left-back Benedikt Höwedes said that a "great opponent" was waiting in the final.
"Now we want to take the title home with us. Should we fail to win the cup, very few people will keep talking about that semi," Höwedes added, referring to the remarkable 7-1 demolition of hosts Brazil on Tuesday.
The right-footed Höwedes, who has played somewhat out of position on the left of defense all tournament, also fired back at his critics - including former club coach Felix Magath who labeled the left of defense Germany's weak spot.
"Being criticized by so-called experts, or indeed former coaches, leaves me cold," the Schalke captain shrugged.
Klose 'still dragging corpse about'
Höwedes arguably lost Thusday's battle of wit to his veteran teammate Miroslav Klose, however, with the 36-year-old striker artfully dodging questions on a possible retirement from international football.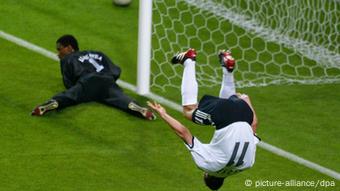 Klose's somersaults have shed some spring over the years, he - nearly - landed this one
Asked how his international career would likely proceed, Klose joked: "I don't know myself. I'm still perfectly capable, sadly. I have often stressed that I intend to drag my cadaver around for a little longer. How long that will actually be is a decision I'll make spontaneously."
Klose's goal against Brazil, Germany's second of seven and the first indication of the mauling that was to follow, put the Lazio striker in the history books. It was Klose's 16th goal at World Cup competitions, more than anybody else has managed.
The soft-spoken poacher, known in the Germany camp for only rarely drinking alcohol, conceded that, in the case of a victory on Sunday, "then the party animal in me would be set free." Considering that Klose's the only German veteran of the 2-0 defeat to Brazil in the 2002 World Cup final - Germany's last - this is perhaps understandable.
"This will be a completely different game," Klose said, with an eye on Brazil's capitulation. "We will need to deliver our best. I know how crappy it feels to lose a final."
Flick accepted on Thursday that several factors were playing in Germany's favor ahead of the final, not least the simple issue of rest and relaxation. Germany beat Brazil a day before the Argentine semifinal victory; and while Argentina needed 120 minutes and penalties against the Dutch, the Brazilian rout was all over bar the shouting in just half an hour.
msh/crh (dpa, SID)