It's been a tough year for many German car manufacturers. Faced with increased competition from abroad and falling sales, executives are struggling to bring down production costs despite tough opposition from labor unions.
Earlier this month, Volkswagen managers said they would cut costs by €2 billion ($2.6 billion) -- 30 percent -- ­over the next seven years. In July, DaimlerChrysler threatened to move production to South Africa if its Stuttgart-based workforce didn't accept a pay cut.
But lurking behind these headlines is another story. Some German cars, once synonymous with reliability, are no longer living up to expectations.



Steady decline in ratings
In it's latest survey released in August, the UK-based consumer magazine Which? gave VW bad marks, putting it in the lowest "poor" category, a position it has now held for two years. Mercedes-Benz, which used to be in the top "best" category has steadily slipped two notches into the "average" category. Audi, once judged to be "good," is now considered "poor," and BMW has gone from "good" to "poor."
Other surveys, including that of US-based J.D. Power and Associates, show comparable results. While BMW faired better, with only 264 problems per 1,000 vehicles -- above the 269 industry average, Audi and Mercedes-Benz, with 295 and 327 problems per 1,000 vehicles respectively, scored well below the average. Volkswagen, with 386 problems reported per 1,000 vehicles, was near the bottom of the list.
Japanese raise the standard
The reasons for the decline are complicated and vary depending on the company and model in question. And experts are quick to point out that not all German models have dropped off in ratings. But they point to a few general trends.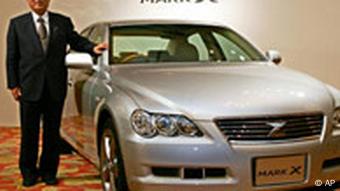 Japanese carmakers are giving the Germans a run for their money.
For one, they say it's not necessarily just a case of German cars becoming less reliable. It's that they are comparatively less reliable than their Japanese competitors, who have raised the bar with some models going up to five years without any trouble.
"The competitors are getting more reliable, rather than Germans getting less reliable," Graham Whyte, an editor at UK-based newcarnet.co.uk, an online guide to new cars, told DW-WORLD.
Richard Headland, a principal researcher at Which?, agreed.
"Japanese car makers are demonstrating that it is possible to build cars that are exceptionally reliable and that brings up the whole average," he said.
Too much technology?
For some high-end carmakers, like Mercedes-Benz, technology has proven to be the Achilles heel. In the competitive luxury car market, Mercedes-Benz has to be superior in two categories: quality and innovation, Ferdinand Duddenhöffer, a professor at the Gelsenkirchen Institute of Automobile Economics, told DW-WORLD. Unfortunately, in the race to triumph over competitors, Mercedes may have sacrificed quality.
Like other luxury German carmakers, Mercedes incorporated technologically advanced electronic systems developed by so-called "first-tier suppliers," separate companies like Bosch, which make products such as ABS breaks, electronic engine management systems, GPS navigation devices.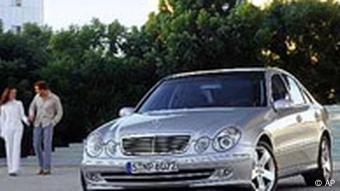 Mercedes-Benz' E-Class
At a time when the average development time of new cars has shrunk from five years to 32 months, not enough so-called "soak-testing" time to establish the reliability of these new devices was allotted. At Mercedes-Benz, that seems to have been the case with the introduction of the new E-Class, a particularly problematic model.
"They are in too much of a hurry now to produce new cars from scratch and under increasing pressure to make ever more technologically sophisticated models," Whyte said. "It's the same if you plan a vacation in a hurry: You are bound to go wrong somewhere."
Ambitious expansion and declining quality control
The root of the problem at more mass-market manufacturers like VW is a bit harder to pinpoint. Faulty advanced electronics -­- an industry wide problem -­- may have a bit to do with it, but most models are not nearly as complex as those of, say, Mercedes-Benz.
Experts can only guess.
"They have expanded by taking on Seat and Skoda," said Headland of Which?. "Perhaps the expansion has put pressure on their resources and internal quality control."
"With all the cost cutting, perhaps it is affecting their production standards," said Whyte.
Duddenhöffer, however, was not inclined to agree with such theories. He pointed out that VW has always had a strong commitment to quality and will continue to do so despite cost cutting.
Getting back on track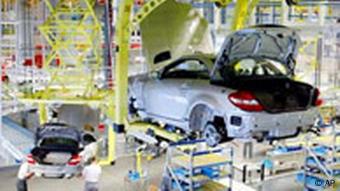 Work at a DaimlerChrysler plant in Bremen
Regardless of the cause, German carmakers are looking to get back into the good graces of their buying public. Particularly in the luxury category, where new cars can cost up to €70,000, consumers are demanding. Thus far, German carmakers in this category, ­like Mercedes-Benz and BMW, ­have not experienced a drop in sales, but their fortunes could change.
According to Whyte, the CEO of Mercedes Benz admitted in Automotive News that the company had added unproven technology to vehicles too quickly, and in the future Mercedes would devote more time to testing. If that's the case, it will still take a few years for the turn-around to turn up in surveys.
At VW, management will have to get to the root of the problem, in the hopes of living up to their old slogan: "If only everything in life was as reliable as a Volkswagen."