For the first time, the proposed legislation, which still needs to be approved by parliament, would give federal police officers the right to take preventive measures in cases of suspected terrorism.
The bill calls for video surveillance of private apartments and online computer searches.
German Interior Minister Wolfgang Schaeuble defended the proposed law after the meeting.
"It's an important building block for Germany's security architecture," he said, adding that the bill was in line with Germany's constitution.
Schaeuble's plans led to fierce discussions within the coalition as the conservative minister mainly faced critique from his Social Democratic colleague Justice Minister Brigitte Zypries.
Zypries rejected, for example, plans to let investigators enter apartments to install surveillance programs on computers or surveillance cameras without the consent of the people who live there.
Uncharted territory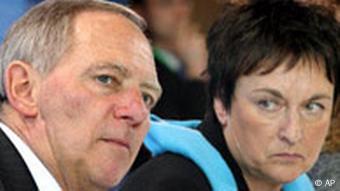 Schaeuble (left) and Zypries didn't see eye to eye on the bill
While the two sides have managed to come to an agreement, members of Zypries' party have already voiced their concerns and have said that they will call for several changes to the bill.
"This is uncharted territory in the law," Sebastian Edathy, a Social Democrat and chairman of the parliament's domestic affairs committee, told German public broadcaster ZDF. Edathy called for sections of the law related to online searches to be limited to four or five years in order to give lawmakers a chance for evaluation. He also said that the law could be made "more citizen friendly" than proposed by Schaeuble.
"We don't want a spy state," he said. "We want a state that works with tweezers instead of a sledgehammer in cases where we indeed have to protect the state's security concerns."
Social Democrats and members of Germany's opposition parties also reject dragnet searches that would be part of the package. Such dragnet searches would allow investigators to search people based on their religion.
Schaeuble meanwhile said that critics within the coalition were "insular voices" and added that the law had the backing of a large number of Social Democrats in parliament.