The lifting cart at the German company Teckentrup is known as "the ant." Instead of hearing protectors, the workers put on a "Mickey Mouse." The company, which is located in the western German town of Verl, rewrote its official safety materials to use the common names workers use for equipment rather than their official monikers.
"Now everyone really understands them," company head Kai Teckentrup said. The family-run business is among Europe's largest manufacturers of doors and gates. But finding employees in the town in the German state of North Rhine-Westphalia is difficult. That's led Teckentrup to look for immigrants to fill staff and trainee positions.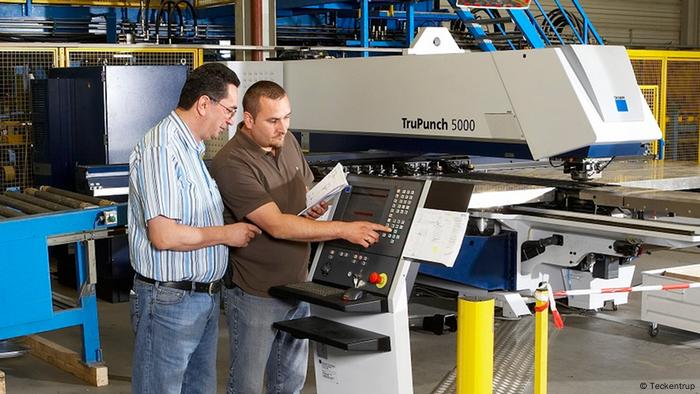 A new worker at Teckentrup learns the ropes from a colleague
Skilled employees need to be able to communicate in German to take on responsibility in the company, so Teckentrup organizes language lessons for staff members that are tailored to their work environments.
"If I put up a sign [for the language courses], only a few people will sign up," Teckentrup said. The reason is that few want to admit that their German skills need improving. "Instead we use their own networks to reach workers." Different ethic and national groups at the company have informal spokespeople willing to talk with bosses, he said. "In a company with about 850 employees, you find them fairly quickly."
By telling the groups' representatives about language lessons, three to four times as many people signed up to participate in the lessons, he said.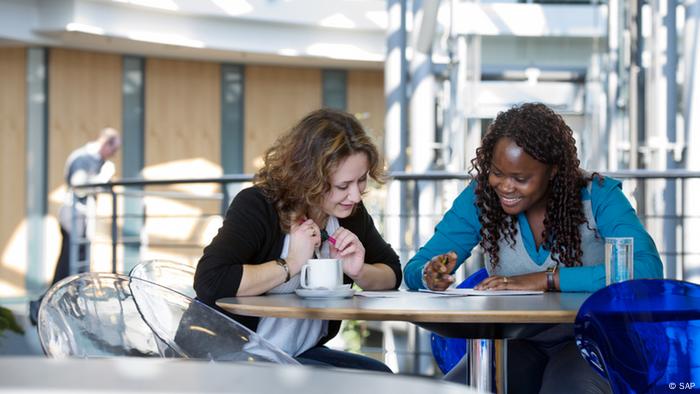 SAP employees say they can learn a lot over a lunch with colleagues
Growing employment deficits

There are shortages of university graduates and skilled workers with degrees in some sectors, and Germany's graying society mean finding employees with the skills companies need will grow increasingly difficult.
"If I don't do anything today, I won't have any workers tomorrow," Teckentrup said, adding that was one of the reasons why he has organized intercultural workshops for staff and sends out information on religious holidays around the world via email.
"It starts with the mundane: someone from a different country does not necessarily know the way kindergarten or the school system works in Germany," said Alexander Böhne, an expert for corporate personnel policy at the Confederation of German Employer Organizations (BDA).
Employers, he said, can help here, accompanying employees on trips into German officialdom and helping find contact people able to assist employees with problems outside of work. Providing information materials with address and contact details about local organizations can complement work-related information.

Diversity without big budgets

The BDA has published a set of guidelines drawn from real-life examples of companies that strive to be more welcoming. Its suggestions include establishing reading groups or cooking evenings for employees from various cultural backgrounds, or encouraging mentoring relationships and language exchanges. Companies are also urged to respect religious differences and approve longer vacations for immigrant workers who would like to spend time in their home countries.
"We made a conscious decision to seek out smaller companies for our examples, in order to show that setting up a welcoming culture doesn't have to be expensive," said Böhne.

Of course, creating a harmonious workplace environment is a two-way street, Böhne pointed out, saying that the ideal case is when all employees, regardless of ethnic background, welcome new people to the staff.

American Michael Shea has worked for seven years at SAP in Germany, where he represents one of nearly 80 nationalities at the software development company. Once a week, groups from various countries meet in the cafeteria for lunch. These regular meetings developed into a network, known as Cultures@SAP - which Shea calls a grassroots movement, by employees for employees.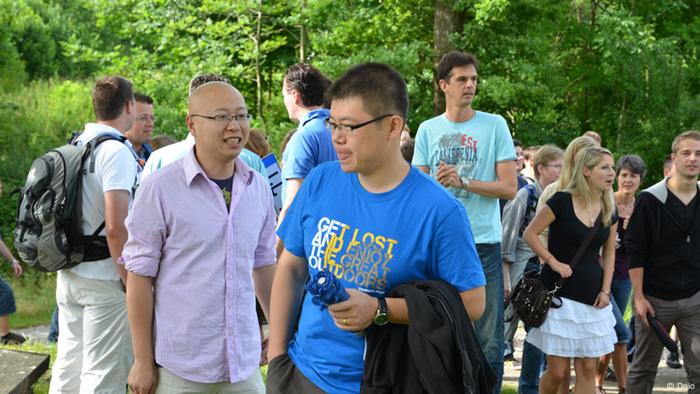 Company outings, like this one hosted by Delo, are one way to integrate newcomers
Tips from colleagues

SAP's human resources department helps newcomers with their apartment searches and with getting set up in Germany in terms of language training, driver's licenses and other basics - for both employees and their families.

"But the important tips and tricks, like doctor or restaurant recommendations, come from the internal networks," said press spokeswoman Jana Schuppel. "We can support each other because everyone has to figure out their way around here. You don't know how certain things here work. For me, as an American, it was a surprise at first that you can't go shopping on Sundays."

The adhesives company Delo, based in Bavaria, makes mentors responsible for answering the variety of questions involved with settling into a new country. Each new worker is paired with a mentor for several months upon starting work. Before the incoming employee arrives, the mentor has a look around the employee's planned workplace to make sure everything necessary is in place. Then the mentor shows the newcomer around upon arrival: sitting down for a coffee, offering a tour and explaining what there is to do nearby.

Employers and new workers use the first few months to size each other up and see if there's a good fit - but not everything along the way needs to be left to chance.