Perhaps by far the most spectacular was engineering giant Siemens in a vast embezzlement scandal -- with possible links to the late Nigerian dictator Sani Abacha -- that shocked even the most hard-nosed observers.
Prosecutors have arrested seven Siemens employees, both current and former, amid allegations they diverted 200 million euros ($260 million) of company money into overseas slush funds to pay for major contracts.
The arrests were made after more than 200 police officers, tax inspectors and investigating magistrates raided about 30 offices and homes of Siemens employees and seized some 36,000 documents.
One of the employees has subsequently been released, but six still remain in custody and are being questioned by prosecutors.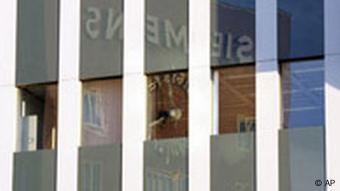 Six current and former Siemens employees are still being questioned
The employees were "being questioned, some of them a number of times, and a number of statements have been made," a spokesman for the prosecutors said, declining to elaborate further.
A report in the reputable daily Süddeutsche Zeitung on Friday claimed that one of the men admitted paying massive bribes to the regime of late Nigerian dictator Sani Abacha.
The newspaper said the former employee told investigators it was common to pay sweeteners in Africa to secure contracts and that he had acted as a middleman, channeling between 75 to 100 million euros a year to Nigeria through bank accounts in Austria in the 1990s.
Abacha is suspected of having looted about $2.2 billion when he ruled Africa's most populous nation from 1993 until his death in 1998.
Scandal of surprising proportions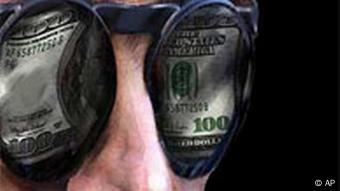 It's often difficult to tell if corruption is part of corporate culture or simple greed
The extent of the Siemens scandal surprised even the most seasoned investigators.
"It astonished us," the deputy head of the German arm of Transparency International, Peter von Blomberg, told the AFP news agency. "The size of the case begs the question whether corruption is part of Siemens' corporate culture and is knowingly tolerated by management, or whether the company is simply the victim of ruthless managers, acting for their own personal gain. Whatever the answer is, all control systems have clearly failed."
Siemens promised to get tough on wrongdoers and immediately suspend any employees where suspicions of illegal behavior had hardened.
"We have to relentlessly clarify and punish irregularities," said chief executive Klaus Kleinfeld. "Employees who violate our compliance regulations hurt Siemens in every respect."
VW official arrested for bribery
A long-running corruption probe at auto giant Volkswagen has also returned to the spotlight with the arrest of the former head of the group's general works council, Klaus Volkert.
Volkert, who was forced to resign when the affair came to light in the summer of 2005, is seen as one of the central figures in a massive bribery scandal that toppled a number of influential figures, including VW's former human resources chief, Peter Hartz.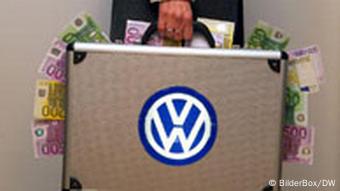 VW council members were allegedly given bonuses to approve unpopular company decisions
The scandal centers on the alleged payment of extravagant bonuses and illegal perks -- including visits by prostitutes -- to members of VW's works council in return for their approval of painful and unpopular restructuring measures.
Another company to hit the headlines was E.ON, Germany's biggest power supplier, which was accused by the EU Commission in Brussels of interfering in a price-fixing probe.
E.ON rejected the charges, but, if found guilty, could face a fine of hundreds of millions of euros.
TI: Business corruption not on rise
Transparency International's von Blomberg insisted that, despite the latest cases, corporate corruption was not on the rise in Germany.
"In the past, cases of corruption in a company were more frequently covered up or played down," von Blomberg said.
Nowadays, it was simply that public awareness was higher and people more sensitive to the issue, he added.
"Nevertheless, the number of cases that go undetected is extremely high, probably about 90 percent," von Blomberg said. "The publicized cases are just the tip of the iceberg."