Brandenburg state Interior Minister Joerg Schoenbohm said the search was to begin on Wednesday - the 64th anniversary of the liberation of the Sachsenhausen concentration camp.
The mass grave, which is believed to hold the remains of 753 prisoners, is on the grounds of the former Lieberose forced-labor camp, a satellite camp of Sachsenhausen, located around 120 kilometers (75 miles) southeast of Berlin. The grave is thought to be the largest in Germany outside the walls of a former concentration camp.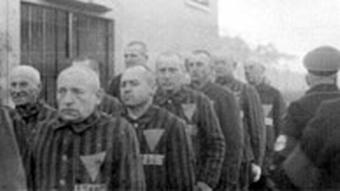 The bodies are thought to be from an offshoot of Sachsenhausen camp, shown here
Too sick to march
The men and women, mostly from Poland and Ukraine, were inmates in 1945 at Lieberose.The SS mowed them down with machine guns on February 2, 1945 because they were too sick or exhausted to take part in a forced march away from the camp as the Soviet Red Army approached, Schoenbohm said.
The following day the SS lined up and shot dead 589 others, mostly with pistol shots to the back of the head; the remains of the second batch were discovered accidentally in a gravel pit near Staakow around eight kilometers away from Lieberose on two separate occasions; in 1958 and then in 1971.
Search faced obstacles
The communist East German authorities showed little interest in looking for the other bodies, and the search was only taken up again in earnest after the fall of the Berlin Wall 20 years ago.
The owners of the property only agreed to the dig last year
Between the mid-1990s and 2004, around 20 suspected sites were inspected before investigators centered on the site to be excavated this week. Objections by the owner of the land were overcome only last year.
Once the dig has been completed, in around three weeks' time, the site is to be turned into a memorial.