Germany's National Anti-Doping Agency said on Monday that it would examine the cases of 28 athletes suspected of having undergone a performance-enhancing blood treatment.
The announcement came after German public broadcaster ARD on Sunday revealed some of the athletes' names, including former Olympic speed skating champion Claudia Pechstein.
NADA President Andrea Gotzmann said that it would follow up court documents being used in a court case currently underway against physician Dr. Andreas Franke.
"Of course, we will diligently be investigating every single case for the possible use of prohibited methods, irrespective of whether it concerns an Olympic winner or a junior athlete," said Gotzmann.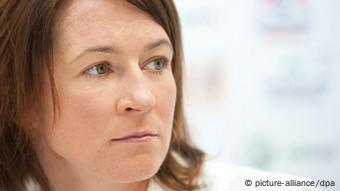 Pechstein was cleared in a previous doping scandal
Franke has been under investigation by prosecutors since February 2011, on suspicion that he violated laws on the use of medicines.
Blood treated with light
It is alleged that sports specialist Franke treated blood extracted from the athletes with ultraviolet light before re-injecting them with it. The process is said to boost blood oxygen content.
Franke, who until last year worked at a German Olympic Sports Confederation training center in the Eastern city of Erfurt, says the procedure was only ever used to help fight infections. NADA has already brought two cases involving Franke's patients to the German Institution of Arbitration.
Five-times Olympic gold winner Pechstein was at the centre of a doping scandal in 2010, but cleared by authorities the following year. Other athletes involved include German cycling star Marcel Kittel, former 800-meter Olympic champion Nils Schumann and Jamaican long jumper James Beckford.
Author: Richard Connor (AP, dpa)
Editor: Michael Lawton