German government officials said Saturday that a military plane had delivered 10 tons of one-person food packages to Pensacola, Florida. The US Federal Emergency Managament Agency (FEMA) will deliver the aid to Katrina victims.
Officials had used free cargo capacities on the routine flight to the US, which brings supplies to German soldiers -- mainly pilots -- who are in the US for training purposes.
Meanwhile, a team from Germany's Technisches Hilfswerk (THW), the country's federal disaster relief organization, was on standby Saturday to travel to the affected region. The group of four THW workers plus a medical doctor is meant to figure out what kind of German aid is wanted and needed. The trip will ensure that relief work can be coordinated such that it will reach those in need in the most timely manner, government spokesman Bela Anda told reporters.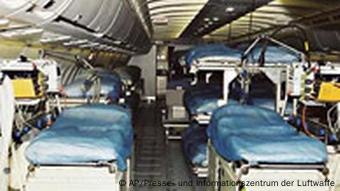 View inside the Medevac plane
On Friday, German Chancellor Gerhard Schröder had offered medical and technical help to the US. Schröder said Germany could help with vaccines, medical equipment and large quantities of aid packages. The chancellor also offered to send Germany's flying hospital, Medevac, that was used in the tsunami areas. He also offered search and rescue teams, water purification plants and specialists that could help restore the power supply as well as build emergency shelters for those left homeless by the hurricane.
Schröder's chief-of-staff, Frank-Walter Steinmeier, is expected to meet with the new US ambassador in Germany, William Timken, on Sunday to discuss what kind of aid the US would want from Germany. Meeting with German Foreign Minister Joschka Fischer on Friday, Timken had reportedly thanked him for the offer of help and said that the US would take Germans up on it at a later point.
States, Red Cross offer help
German states meanwhile also offered to participate in the aid effort. Bavaria, which expressed its willingness to coordinate the help, and Baden-Württemberg said they would offer personnel and equipment if the federal government took over transportation costs. Kurt Beck, the premier of the southwestern state of Rhineland-Palatinate, offered financial help to the US military forces stationed in his state.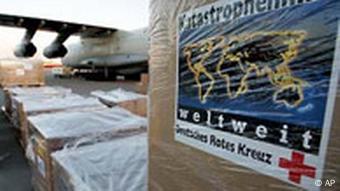 Germany's Red Cross is unlikely to send goods to the US
Germany's Red Cross (DRK) is also expected to sent five to 10 logistics experts to the region and has offered emergency response units, water purification plants, health center and mobile hospitals to its American sister organization.
But DRK spokesman Fredrik Barkenhammar told Berlin paper Tagesspiegel am Sonntag that American Red Cross officials had asked for donations and personnel expertise rather than material support.
Donations pour in
The German government has also thanked citizens for their willingness to donate money to the victims, adding that aid organizations and the foreign ministry's humanitarian aid department were coordinating the effort to ensure that help would reach those in need as soon as possible.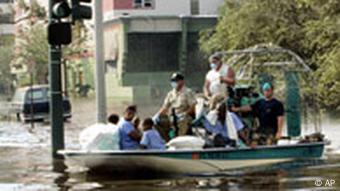 Patients and staff of the Charity Hospital in New Orleans are evacuated by airboat on Friday
Aid organizations called on Germans to keep donating money. Manuela Rossbach, the executive director of German umbrella aid organization "Germany Helps" said that the money would be passed on to US partner organizations. In an interview with German public radio Deutschlandfunk, she added that people should not donate goods. Rossbach also said that money donated for the tsunami victims in South Asia would not be used for hurricane victims.