Actress Anna Schudt won the International Emmy Award on Monday for her portrayal of real-life comedian Gaby Köster in the TV movie Ein Schnupfen hätte auch gereicht (The Sniffles Would Have Been Just Fine), based on an autobiography by the same title written by Köster.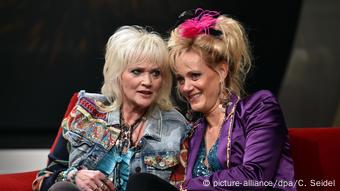 German comedian Gaby Köster (l) with actor Anna Schudt who portrayed her onscreen
Köster is a popular German TV comedian who had to interrupt her career in 2008 after suffering a stroke, but didn't let its physically debilitating effects deter her.
While Anna Schudt is a renowned stage actress, however, Germans know her best as commissioner Martina Bönisch in the cult crime series Tatort. She is part of the Dortmund team of detectives, alongside Jörg Hartmann in the role of commissioner Peter Faber.
Read more: Germany's longest-running soap to end in 2020: What made Lindenstrasse so popular?
Other leading awards for Europe
The top male acting award went to Denmark's Lars Mikkelsen for his role in Ride Upon the Storm.
The UK production Man in an Orange Shirt picked up the Emmy in the best movie / miniseries category, winning over Germany's nominated neo-Nazi drama, Toter Winkel (Dead Angle). The top drama series award went to Spain's Money Heist.
The 46th annual ceremony for the International Emmy Awards was held on Monday evening in New York. The awards, bestowed by the International Academy of Television Arts and Sciences, recognize the best television programs initially produced and aired outside the United States.
eg/ss (dpa, AFP)