German human rights activist Peter Steudtner arrived in Germany on Thursday evening after walking free from a Turkish prison on bail.
The arrival at Berlin Tegel airport was escorted from the airport by an alternative airport to avoid media waiting at arrivals. Steudtner was accompanied by his Swedish colleague Ali Gharavi, who was also detained.
Eight human rights activists, including Steudtner and Amnesty International's Turkey director Idil Eser, had tearful reunions with relative and supporters early on Thursday after they left prison in Istanbul.
Steudtner had been detained since July 5, when he was arrested on controversial terror charges amidst a widespread crackdown on activists and the press in Turkey.
"I think we're all more than relieved. We feel really happy about what happened. Speaking for myself, I am really grateful and we are really grateful for everybody who supported us legally, diplomatically and for solidarity," said Steudtner.
A Turkish court had said on Wednesday that Steudtner and 7 other human rights activists should be released after the Turkish public prosecutor requested an end to the pre-trial detention of the group. However, while Eser was released, the court ordered that fellow Amnesty chief Taner Kilic remain in prison. Two others had been released earlier pending trial.
'First sign of a thaw'
German Foreign Minister Sigmar Gabriel told news magazine Der Spiegel that the release was "the first sign of a thaw, as Turkey has fulfilled all its commitments (in the case of Steudtner)." But he added: "Now we have to work on the release of the other detainees."
Eleven German citizens remain in prison in Turkey, including four with Turkish-German citizenship.
Gabriel said former German Chancellor Gerdard Schröder had acted as a mediator in Steudtner's release, saying he was "very grateful" for Schröder's efforts.
The co-leader of the Green party, Cem Özdemir, also warned against speaking of a normalization of ties with Turkey as long as German citizens were in detention there.
He added that Germany had "not forgotten those who do not have a German passport and are also unlawfully in jail."
Terror accusations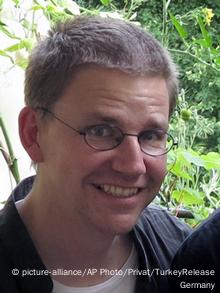 The Turkish government had accused the group of "aiding armed terrorist organizations" through civil society actions in Turkey. The government had also accused the activists of being members of the outlawed Kurdistan Workers' Party (PKK), far-left DHKP-C and the Gulen movement.
Steudtner denied all of the accusations, telling the court in Istanbul on Wednesday: "I plead not guilty and demand my immediate release."
Read more: Peter Steudtner, German human rights activist on trial in Turkey
Critics, including the governments of the United States, the European Union and Germany, called the government's allegations against the human rights activists politically motivated and "absurd."
Tens of thousands detained
Turkish authorities detained Steudtner and nine other defendants in July while they were attending a human rights workshop on the island of Buyukada, near Istanbul. Taner Kilic had been arrested weeks earlier and his case was later merged with the case against the Buyukada group.
More than 50,000 people have been detained and some 150,000 sacked from their jobs under a state of emergency that has been in place since a failed coup attempt against Turkish President Recep Tayyip Erdogan in July 2016.
The crackdown has ignited international concern about the deterioration of the rule of law in Turkey.
Read more: Human rights activists, Amnesty heads go on trial in Turkey
amp,es/ng (dpa, Reuters, AFP)