Gerard Pique has confirmed he plans to play his last game for Spain at the 2018 World Cup, after a row about his shirt sleeves following his nation's 2-0 win over Albania on Sunday.
Pique, who has is regularly jeered by some Spain fans because of his support for Catalan independence, was accused of removing the Spanish colours from his shirt when he cut off the sleeves of his long sleeve shirt.
But Pique, 29, insists he cut the shirt to feel more comfortable, rather than as a political gesture.
The Spanish Football Association defended Pique in a statement, but after coming under fire from fans on social media, Pique reacted by announcing his retirement after the next major tournament, the World Cup in Russia in two years time.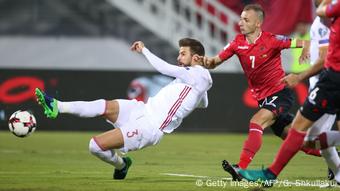 Pique, who has won 85 caps for Spain, cut the sleeves off his Spain shirt in the 2-0 win in Albania.
"I cut the sleeves in the same way other players have done on many occasions, for comfort," Pique said in a statement.
"I have tried everything, but I can't bear this anymore. I always give everything on the field, but there are people who think it's better if I'm not here.
"Today's issue of the sleeves is the the straw that breaks the camel. They've managed to make me lose the excitement of coming here and although after Russia I'll only be 31, I'll leave."
He added: "It's not a 'heat of the moment' decision, I've given a lot of thought to this."
"I'll be 31 [in 2018], I've won everything with the national team. I'll try to play my 100th game with the team, and I want to win the World Cup again, which is the most important thing."