Major General Markus Kneip seemed cautious, serious and modest during his press appearance in Berlin. It's only been a few weeks since he handed over command for the International Security Assistance Force (ISAF) in Afghanistan to his successor, Erich Pfeffer.
In front of the Berlin press he explained how ISAF's partnership with local Afghan security forces developed, what the problem areas are and what tasks international troops need to accomplish before leaving the country. Kneip, however, did not mention his own fate - last May he was wounded during an explosion and required two months of treatment in Germany before returning to Afghanistan.
Safety first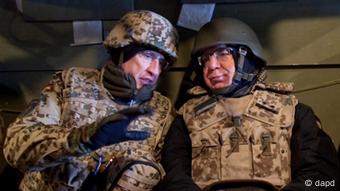 Kneip, left, with German Defense Minister Thomas de Maiziere in Afghanistan
International cooperation in northern Afghanistan is particularly important, Kneip said, adding that the region is currently home to troops from 21 countries. This makes a high degree of communication crucial.
He said he was always kept well informed by US commanders General David Petraeus and his successor General John Allen. In northern Afghanistan, Germany provides services to troops from several other countries, some of whom serve in German uniforms.
After several deadly confrontations with Afghan rebels, the main focus of attention has been the security of military facilities and their surroundings. Bases have been outfitted with cameras and surveillance balloons. Biometric information is also used to uncover and identify potential attackers.
Close contact with Afghan partners and the public is also a key element of the security plan. Kneip said if German troops can't keep themselves safe, they cannot be a serious and trustworthy partner for the local population.
"If we're not safe we're not going to get anywhere," he said.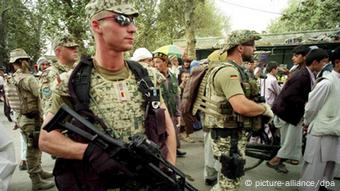 All troops in Afghanistan are in near-constant danger
Deadly dangers for ISAF troops
The main threat to ISAF troops remain traps set with explosives and insider threats, or Afghans who cooperate with rebels and suddenly turn against international forces. Six soldiers were wounded and three German troops were killed in February 2011 when a uniformed Afghan soldier opened fire from a position outside a base.
"It could happen again at any time," Kneip warned.
However, it's attacks from the Taliban or improvised explosive devices hidden along roads that claim the most lives. The German general said improved cooperation with Afghan security forces remains key, adding that Germany's Bundeswehr troops should not be forced to maintain isolated positions while Afghan soldiers stay in their barracks.
Overall, according to Kneip, the security situation has clearly improved. Incidents have fallen by between 40 and 70 percent, he said, before adding that for a solider this was still unsatisfactory. His goal was to eliminate attacks.
"I judge every fallen solider or dead innocent person as a damage to my personal image," he said.
Cooperation with civilians Military and civilian groups need to communicate more for Afghans' benefit
Cooperation between the military and civilian population is also in need of improvement, Kneip said. Numerous development groups have been active in northern Afghanistan and engaged in multifaceted projects.
Kneip said he attempted to improve contact with civilian aid groups and added that he wished there were more transparency between the military and aid groups, including the human rights organizations Afghan Independent Human Rights Watch and the United Nation's mission to Afghanistan.
Consultations with local leaders when it comes to civilian development also needs to be expanded, he said. The German government has significantly increased its financial commitment to civilian projects in Afghanistan, but according to Kneip the implementation of government plans is lacking.
"It's an endless cycle," he said. "You have the feeling you'll never reach the end."
Author: Bettina Marx / sms
Editor: Martin Kuebler