Yoani Sanchez gives voice to an entire generation of Cubans and provides the world with a window into Cuba through her clear and poetic writing, the BOBs international jury of bloggers and media experts said.
Sanchez called the award a "personal joy," and added that she hoped it would encourage more Cubans to begin writing and publishing their own independent blogs.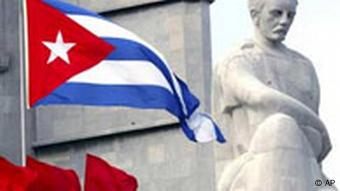 Cuba flag and Jose Marti sculpture, Cuban hero, Havana, Cuba, photo
"The Cuban and international blogosphere will celebrate my award today while Cuban television and newspapers will remain silent," she said in a video message at the award ceremony on Thursday, Nov. 27, in Berlin. "One day, real life will be like cyberspace, and on this island any citizen will be able to express themselves without asking permission. This award is a new push towards accomplishing this goal."
Yoani Sanchez is only able to publish her blog, Generacion Y, by e-mailing her entries to friends outside Cuba, who put her words online.
"Yoani writes in a clear and poetic manner under difficult circumstances," said Vanina Berghella, the BOBs' Spanish-language jury member.
Reporters Without Borders honors two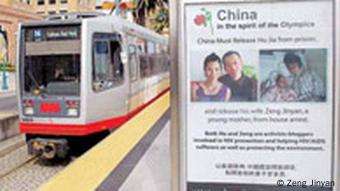 Human rights organizations around the world have called for Hu Jia's release to his family
The 2008 Reporters Without Borders Prize was awarded by the jury to a pair of blogs.
Zeng Jinyan, the wife of an imprisoned Chinese human rights activist Hu Jia, and 4equality, a Persian blog that fights for women's rights in Iran.
Placed under house arrest, Zeng Jinyan's blog describes life under constant surveillance by the Chinese authorities.
"It's a moving example of what people go through when someone is always watching what they are doing," said Clothilde Le Coz, the Reporters Without Borders representative on the jury. "She is isolated at home raising a daughter with her husband in jail. Hopefully this award will raise her spirits."
The Persian Weblog 4equality is working to gather 1 million signatures on a petition for increased women's rights in Iran.
"This blog is an alternative media," said Farnaz Seifi, the BOBs' Persian-language jury member, adding that 48 people involved with the movement surrounding the blog landed in prison and that the Web site had been blocked by Iranian authorities a total of 17 times.
"Party Time" in English blogosphere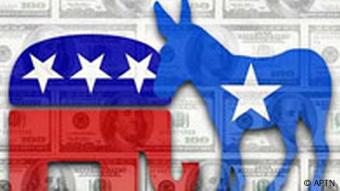 Party Time keeps an eye on who is throwing fundraising parties for whom
The Jury Prize for the Best English Weblog was awarded to Party Time, a blog from the Washington-based Sunlight Foundation. The blog works to shed light on the murky area of political campaign financing by maintaining a database of companies and groups that sponsor fundraising events for politicians.
In the Best Podcast category, the Russian podcast Radio Grinch received the jury's nod. The English-language Voices of Africa earned top honors in the Best Videoblog category for its pioneering work and training citizen journalists and equipping them with simple recording equipment to report on the events happening around them.
The 2008 Blogwurst Award went to Russia's Maratochka, a Weblog featuring a two-legged black dot that shows up in places the blog's readers often least expect.
Focus on Africa
The winner of the 2007 Best French Weblog, Cedric Kalonji told the audience at Berlin's Museum for Communication and a global audience watching via live Internet stream or reading live blog commentary from the event about how bloggers can help the African continent by building bridges between African nations as well as Africa and the rest of the world.
Kalonji described how decades of dictatorship in Congo suppressed freedom of expression to the extent that he was motivated to blog in order to share his daily experiences and freely express his opinions.
Bloggers and Weblog readers from around the world submitted over 8,500 sites to the competition and over 120,000 ballots were cast in an online vote to cure the winners of the Public Choice Awards in a total of 16 categories.
The announcement of winners on Thursday ended the 2008 Best of the Blogs, but the site will remain active with an interactive map showing the location of Weblogs entered in a global encyclopedia of blogs, podcasts and videoblogs.