When called on to label his political tendencies, Joachim Gauck leans on the Polish philosopher Leszek Kolakowski and describes himself as either a leftist liberal conservative or a conservative liberal leftist. Gauck is not a member of any German party, but he is hardly apolitical.

The Christian Social Union, the Bavarian sister party to Chancellor Angela Merkel's Christian Democratic Union, would have liked to have made Gauck president back in 1999, but the former East German civil rights activist and lawyer declined the nomination.

Dedicated to freedom

Having lived under the dictatorship of East Germany and been forced to look on as his father was shipped to a Soviet gulag for four years, Gauck has dedicated his life to promoting freedom. After German reunification, he became the federal commissioner for the Stasi archives and played a key role in investigating crimes committed by the East German communist regime.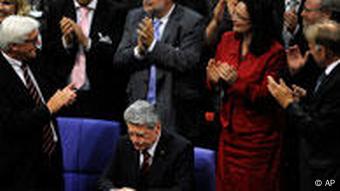 Wulff beat out Gauck, seated, for the president's office in 2010
Born on January 24, 1940, in the middle of World War II, in the northern city of Rostock, Gauck said his father's deportation to Siberia in 1951 on charges of espionage played a key role in his decision to become involved in politics.

Due to his family background and because he was not a member of East Germany's official socialist youth association, Gauck was denied the opportunity to study German language and literature at university. Instead, he took up theology in 1958, and he began work as a Lutheran pastor in 1965.

At that time he lived under constant surveillance by the government's secret police. But Gauck did not view himself as a dissident so much as a critic of the East German regime who enjoyed a certain degree of protection by way of his involvement in the church.

When the religious community took on a central role in promoting democracy in the former East Germany in 1989, it was Gauck who helped lead the popular movement New Forum in Rostock and who held the religious ceremonies that often preceded large-scale demonstrations on the streets of East German cities.

In March 1990, he was chosen as a New Forum representative in the East German legislature, where he served until reunification and the chamber's dissolution.

Short political career

Upon reunification he took on the role of investigating the crime of the East German secret police, the Stasi, for what would later become known as the Federal Commission for the Stasi Archives.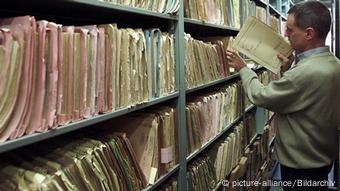 Gauck took on responsibility for the Stasi archives
After two terms in office, Gauck handed over responsibility for the Stasi archives to Marianne Birthler in 2000. Since then he has not occupied public office, but has regularly been discussed as a presidential candidate each time the post has been filled since 1999.

Gauck's role investigating the Stasi has made him unpopular in some parts of the Left party, a successor to the former East German communist party. When he ultimately lost out on being appointed president to Wulff in 2010, Left party leader Gesine Lötzsch called Gauck a "man of the past" who did not "set a path for the future."

Well-respected

While the Left party has consistently refused to support Gauck's candidacy for the president's office, Germany's other parties have regularly backed him.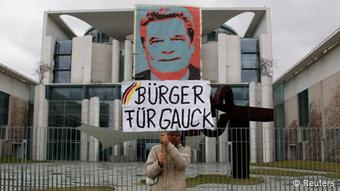 This man was not alone in supporting Gauck
In 2010, the opposition Social Democratic Party and the Greens pushed for him to be appointed president rather than ultimate winner Christian Wulff, who won the position in the third round of voting.

During the two days of tense discussions following Wulff's resignation, Gauck was the only person to receive the support of the FDP, the junior partner in Merkel's governing coalition, as well as the SPD and Greens.

Gauck also enjoys the support of the German population. Two polls published Sunday showed voters would like to see Gauck move into Bellevue Palace, the president's official residence. Surveys conducted by Emnid and Infratest dimap both found public support to be highest for Gauck.

The Emnid poll also found that 79 percent of those surveyed said they wanted a president who is not currently politically active.

Author: Michael Gessat /sms
Editor: Greg Wiser