Libyan leader Moammar Gadhafi, who is hosting a two-day EU-Africa summit in the capital Tripoli, has lashed out at his European counterparts, insisting that the EU's Africa policy is one-sided and does not benefit African nations enough.
In his opening speech, Gadhafi demanded that "Christian, white" Europe lend more financial and technical support for his efforts to combat illegal migration to Europe or face becoming "black." He also criticized the EU for linking aid to good governance and progress on human rights issues.
His comments echoed complaints by other African leaders who say Europe demands that Africa embrace free trade but was not giving enough in return, according to a leaked document from the African Union this month.
Touchy start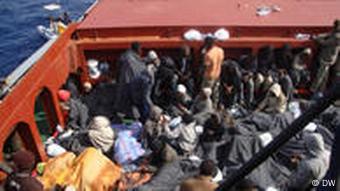 Illegal immigration to Europe is on the summit's agenda
European Council President Herman Van Rompuy, meanwhile, defended the bloc's Africa policy, insisting that good governance and economic prosperity are closely linked.
"The dynamics of prosperity set in where business-friendly policies attract private investment, where corruption is not tolerated, where the rule of law is respected and transparency valued," he said in his opening speech.
It was not the only controversial issue on the opening day of the summit. At the last minute, Sudan pulled out after EU leaders protested the participation of Sudanese President Omar al-Bashir, who has been charged with war crimes by the International Criminal Court (ICC).
Van Rompuy urged African leaders to support the ICC and "fully subscribe to the principle of the fight against impunity."
Another contentious African leader and a thorn in most European leaders' sides, Zimbabwe's President Robert Mugabe, is also attending the summit. Zimbabwe has been subject to EU sanctions since 2002.
Author: Nicole Goebel (Reuters, dpa)
Editor: Martin Kuebler