Group of Eight finance chiefs gathered in southern France on Saturday said they would pledge and extra $38 billion (27.8 billion euros) in financing to Tunisia, Egypt, Morocco and Jordan over the next two years to support reform efforts in the wake of the Arab Spring uprisings.
The talks were being conducted with representatives of several North African countries, a region where pro-democracy uprisings have forced regime changes in Tunisia and Egypt this year and are behind an ongoing civil war in Libya against the rule of Moammar Gadhafi.
Earlier, the finance ministers of the G7, made up of Canada, the United States, Japan, Germany, Britain, France and Italy - the G8 also includes Russia, vowed to preserve global economic recovery but were short on detail as to how that would or could be achieved.
"We are committed to a strong and coordinated international response," said a statement issued at the opening of the summit in Marseille.
Such a response is needed to combat the slowing economic growth and the sovereign debt crisis in the United States and Europe that continue to rattle international financial markets, the statement added.
Officials from Canada, the United States, Japan, Germany, Britain, France and Italy went into the talks with the aim of preventing a repeat of the 2008-2009 recession; they differed sharply, however, on what approach to take to avoid stagnation.
Stimulus or austerity?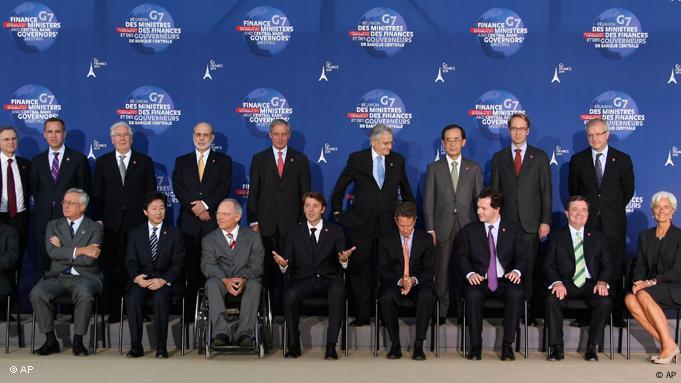 G7 finance ministers are scrambling for a solution to slowing economic growth
Most European nations used government stimulus spending to revive their economies from the deadlock that followed the 2008 crisis. But now they have focused on reducing their deficits in response to increasing sovereign debt levels.
German Finance Minister Wolfgang Schäuble said taking a stimulus approach in Europe now would "aggravate the problems instead of resolving them." French President Nicolas Sarkozy, backing Schäuble, also said Europe was unlikely to follow the US example - after US President Barack Obama unveiled a new $450 billion stimulus package on Thursday.
When asked if Europe needed a similar plan, Sarkozy said: "No. A recovery plan, we're not going to be asking Greece to do that."
Greece's European partners have been demanding that the country, which needed a massive bailout to head off a government debt default, slash state spending and raise taxes as a condition for the financial life preserver.
But the director of the International Monetary Fund, Christine Lagarde, urged her European partners not to drag their feet when it came to promoting growth.
"The key message I wish to convey today is that countries must act now - and act boldly - to steer their economies through this dangerous new phase of the recovery," she said in London before travelling to Marseille.
Lagarde said that the world was suffering from "a crisis of confidence" and warned that hesitancy would send the wrong signal.
"All this is happening at a time when the scope for policy action is considerably narrower than when the crisis first erupted. But while the policy options may be fewer, there is a path to recovery."
Author: Gabriel Borrud (AFP, Reuters, dpa)
Editor: Sean Sinico