It was in the 1950s that Günter Grass first re-visited Gdansk in Poland, the city where he was born, called Danzig by Germans. During that first trip he made a friend for life: Boleslaw Fac, a young Polish poet who was employed as a worker at the Lenin shipyards. Fac was assigned the task of showing the German author around the town. The two men - the Polish Socialist and the German Social Democrat - got on well straight away. From then on, Grass visited Fac every time he came to Gdansk, and Boleslav Fac began to translate Grass' poems into Polish.
"Günter Grass and my father spent hours at our dinner table, discussing politics, society, history," remembered Andrzej Fac, Boreslav's son and himself a poet.
In 2006 Günter Grass admitted that he had been drafted into Nazi Germany's notorious Waffen SS elite force during World War Two - a confession that triggered a huge backlash in Germany. But back in the '50s and '60s when Grass would have lunch in Fac's home, this part of the German author's biography was still unknown.
"But we could guess there was more than met the eye," said Andrzej Fac, "especially when Grass spoke about his own father, who was a low-ranking Nazi pretty much like Alfred Matzerath, one of the main characters in Grass' most famous novel 'The Tin Drum.'"
So Fac was not too surprised at the author's late confession and did not feel as disturbed at the revelation as some of his contemporaries in Poland. "When I think of Grass, I remember other things," Fac said and recalls Grass' quote "The crimes of the Germans are as big as the Himalayas."
Early engagement more important than late confession
People in Poland remember that Grass spoke about German guilt and atonement at a time when most Germans did not want to hear this yet. In the early 1960s he stood by former Chancellor Willy Brandt's side and supported his push for reconciliation, most notably the recognition of the Oder-Neisse border between the two countries, giving up German territorial claims. It was against this backdrop that the revelation of the Waffen SS membership came as a shock to many Poles.
Former Polish President Lech Walesa even demanded that the Gdansk authorities revoke Grass' honorary citizenship.
But this irritation subsided. And only two years later, in 2008, Grass celebrated his 80th birthday in Gdansk.
And it hardly came as a surprise that a book with condolences was quick to emerge in Gdanks's town hall, shortly after the news of Grass' death spread to Poland on Monday. Mayor Pawel AdamoWicz was the first to write there "This is surely the end of an era," and that Grass was a "great friend of the city."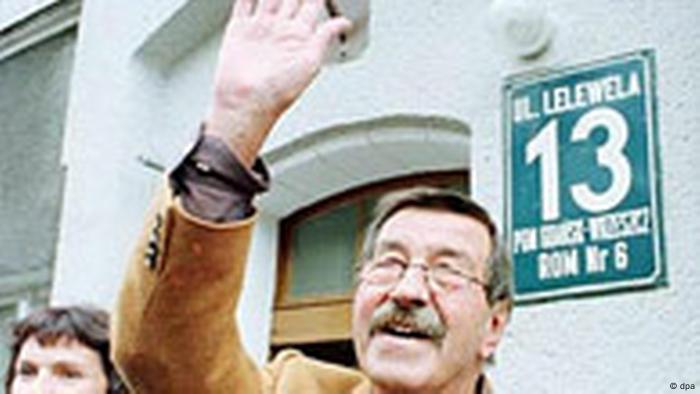 Günter Grass at his family's home in Gdansk
Heartfelt goodbyes
Many Poles bade farewell to Grass just as though he had been one of their own. The Polish media lauded the Nobel Prize winner as "one of the first Germans who acknowledged the true facts, who said outright that the German territories in the East were lost for good." Gdansk author Pawel Huelle stressed "few people did as much for German-Polish reconciliation" as Günter Grass, who was "an outstanding ambassador for Polish interests."
Indeed, Grass was just that repeatedly. In 2000, for example, he criticized German media companies for aggressively entering the Polish market. When the German "Passauer Neue Presse" took over the Polish regional publication "Gazeta Baltycka", Grass, on a visit to Gdansk, publicly condemned the move as a "victor's mentality" over the vanquished, which irritated some in the audience.
But he didn't spare the Poles either. Several years ago he urged them to stop constantly portraying themselves as victims. Even though this drew criticism from several quarters, the people of Gdansk were proud of their famous son.
"He always felt that criticism was more helpful than praise," recalled Andrzej Fac. "He was a polemicist; but really wanted to know what other people thought."
Making the new Gdansk known
When Fac thinks of Grass today, however, he femembers first and foremost his literary achievements, his oeuvre which he created with passion and fervor. Even if he dealt more with Germany, his home country, rather than with Poland, his place of origin, Polish intellectuals found they could relate to his work.
The city of Gdansk decided long ago to build Grass a monument - a plan that Grass himself found irritating. But since then a little bronze statue of Oskar Matzerath playing his tin drum can be found sitting on a bench in a small park in the Wrzeszcz section of town. Now that Oskar's creator has passed away there are calls for a statue of the author himself to be erected there as well.