"I always draw, even when I'm not drawing, because I'm writing," says Grass, who studied graphics and sculpture from 1948 to 1956 in Düsseldorf and Berlin. In 1956, he published his first volume of poetry illustrated by his own drawings, as well as holding exhibitions of his drawings and sculptures.
However, the publication of "The Tin Drum" in 1959 brought him national and international fame, forging his career as a writer. In 1999, he was awarded the Nobel Prize for Literature.
Despite his literary success, Grass never gave up his other art passions. Recently, he has showed an interest in displaying his less-known talents to the public. A 2004 exhibition of his bronzes and terracottas held in Göttingen's Pauliner Church was generally well-received.
New beginnings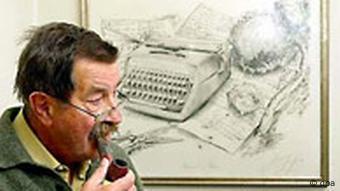 Günter Grass with one of his drawings
After a difficult summer, this new exhibition could help to reconcile Grass with some of his critics.

Görlitz is on the German-Polish border and, together with its sister town Zgorzelec, directly across the border in Poland, the two consider themselves a European whole.
The cities had nominated Grass for their 2,500 euro ($3,320) International Bridge Prize this year in recognition of his contribution to German-Polish understanding.

In the wake of the controversy caused by Grass making known his past in the Waffen SS in his autobiography, however, the writer withdrew his acceptance of the award to avoid any further turmoil.
The Bridge Prize committee decided subsequently not to award the 2006 prize to someone else, but instead to uphold Grass' nomination. At the same time, the Silesian Museum continued its plan to exhibit Grass' work, it wrote on its Web site.

"Günter Grass, Graphics and Sculptures" at the Silesian Museum runs through Feb. 4, 2006.