When Mario Götze and Thomas Müller both turned up (as announced) to the press conference at the DFB's (German FA) media center in Evian on Sunday, it was almost as if they wanted to let the journalists present take their best shots.
However, both players, widely criticized for Germany's failure to score - or even create much in the way of chances in front of the Polish goal, appeared relaxed and confident as they batted away one reporter's question after another.
Dog or tree?
Asked about the very criticism he had faced since Thursday's scoreless draw, Götze essentially shrugged it all off.
"That's how it is in football. Sometimes you're a dog; sometimes you're a tree," Götze said.
"Criticism is part of the game. We are all capable of dealing with it. We're all professional enough to look forward to the next game," added the player who scored the goal that won Germany the World Cup in Brazil two years ago.
For his part, Müller (pictured above, second from right) conceded that it was somewhat frustrating not to have created the odd half chance on goal against Poland, but he didn't see this as the start of a worrying trend.
"Of course we want to be better in attack, to create more goal-scoring chances. We're working on it as a team, not only in training but we've spoken about it, too," said the versatile attacking player, who scored 32 goals in all competitions for Bayern Munich this past season.
"We'll try a few things (against Northern Ireland) on Tuesday. We're looking forward to it," he asserted.
"I hope I can score a goal, but as I said before the tournament, it's not my main concern," Müller pointed out. "I hope we deliver a good game and that we'll win."
Big sides' attackers struggling
After Müller and Götze had finished, team manager and former striker Oliver Bierhoff replaced the two attackers at the press conference, and he too was on message.
Bierhoff note that Germany was not the only big side to have struggled to break down the defenses of lesser opponents at this tournament.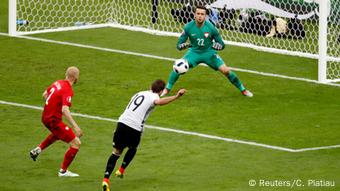 "Teams are having trouble against the smaller nations when they don't maintain their tempo in games or play with sophistication," said the scorer of the golden goal that won Germany its last European championship, in England 20 years ago.
"We're not a team that uses a crowbar (to break down defenses)," he said. "We have to use our technical skills, attacking the box at a fast pace."
The Germans said all the right things on Sunday, but the best way they could silence the critics of their erstwhile lack of offense would be to get a couple of goals from their attackers at the Parc de Princes in Paris on Tuesday evening.