There were explosions in and around Tripoli on Monday night, a day after a NATO strike destroyed a building in the residential compound of Libyan leader Moammar Gadhafi.
Explosions were reported in the east of the city and in the Bir Al-Ghanam district, which lies 50 kilometers (30 miles) to the southwest, late on Monday.
Military and civilian sites were hit according to Libyan state television, which said there had been casualties but gave no further details.
Italy was already providing bases and reconaissance
Meanwhile, Italy said it would increase its level of involvement in Libya, being prepared to carry out "targeted missions against military objects in Libyan territory to protect the civilian population."
Until now, Rome has provided military bases and reconnaissance planes for operations in the country, a former Italian colony. A statement from the office of Italian Prime Minister Silvio Berlusconi said he had informed US President Barack Obama by telephone that Italy had "decided to respond positively" to an appeal by NATO leaders.
NATO forces had struck Gadhafi's Bab al-Aziziyah compound in Tripoli early Monday, while loud explosions were also heard elsewhere in the capital.
A government official showed foreign journalists around the ruined building a few hours after the attack. He claimed 45 people had been wounded in the bombing, 15 of them seriously. The figures could not be independently confirmed. "It was an attempt to assassinate Colonel Gadhafi," he said.
Seif al-Islam, Gadhafi's son, described the bombing as "cowardly."
Intensification in bombing raids
NATO forces appear to have stepped up the pace of air strikes in Tripoli in recent days.
Heavy explosions shook the center of Tripoli shortly after midnight on Monday. Smoke was seen rising from the building at around 3 a.m. local time, watched by dozens of people shouting pro-Gadhafi slogans.
Libyan state television broadcasts were briefly cut off after the bombing raid.
A meeting room opposite Gadhafi's own office was badly damaged by the blast. African leaders had met there two weeks ago to put forward a peace plan that was accepted by the regime, but turned down by the rebels.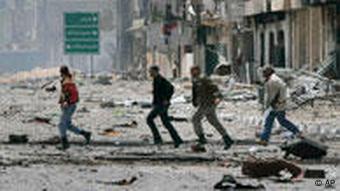 The battle for Misrata saw government leave the city, but shelling continued
The United States, Britain and France have said they will not stop their air campaign over Libya until Gadhafi leaves power.
Rebels in the Libyan port of Misrata said they had pushed government troops out of the city out of the city on Monday. However, rocket attacks have continued on the country's third largest city, 215 kilometers from Tripoli.
From Benghazi, the rebel Transitional National Council's military spokesman Colonel Ahmed Omar Bani dismissed reports of progress in Misrata.
"It is a disaster there. Gadhafi is not losing," he said. "Gadhafi is not going anywhere. Misrata is the key to Tripoli. If he lets go of Misrata, he will let go of Tripoli. He is not crazy enough to do that."
Author: Joanna Impey, Richard Connor (AFP, dpa, Reuters)
Editor: Rob Turner