The silent funeral procession for murdered 85-year-old Mireille Knoll moved through the streets of Paris on Wednesday afternoon. It was held after the state funeral of police hero Arnaud Beltrame on a national day of mourning.
A number of politicians including Paris Mayor Anne Hidalgo attended the march, with parliamentary proceedings suspended to allow politicians to participate.
Members of the far-right National Front and far-left France Unbowed ignored calls by Jewish groups for them not to attend. Party leaders Marine Le Pen and Jean-Luc Melenchon were reported to have left the procession as it moved from the Place de la Nation to Knoll's former home in the 11th arrondissement. Both were reported to have been booed and told to leave by a number of people taking part in the procession.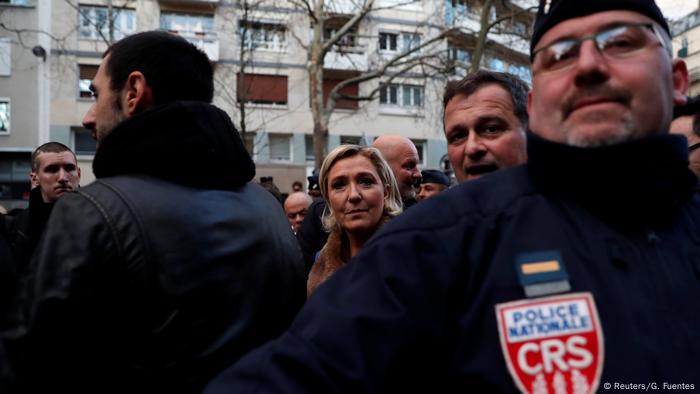 Marine Le Pen of the National Front attended the march
Francis Kalifat of the Crif umbrella group of French Jewish organizations said their presence was "not wanted" but Knoll's son Daniel said "everyone without exception" could attend.
President Emmanuel Macron attended the funeral in a private capacity in support of the family, according to the Elysee Palace. Speaking earlier, Macron had said Knoll's killers had "murdered an innocent and vulnerable woman because she was Jewish."
Other marches to mark Knoll's death were held in Marseille, Lyon, Tours, Dijon, Strasbourg, Metz and Nantes. Others are being held in Orleans and Lille on Thursday.
Anti-Semitic attack
Investigators are working on the theory that Knoll's killers stabbed her, robbed her and set her body on fire because she was a Jew. The prosecutor's office said Knoll had been killed because of the "membership, real or supposed, of the victim of a particular religion."
Police arrested two young men in their 20s: a neighbor and another suspect.
"The terrible thing is that one of the attackers told the other: 'She's a Jew, she must have money,'" Interior Minister Gerard Collomb told parliament on Tuesday. "There are stereotypes we have to fight."

Many left flowers left for Mireille Knoll
Childhood escape from the Nazis
In July 1942 a young Knoll had managed to flee Nazi-occupied Paris with her mother, before the Vel d'Hiv mass roundup of more than 13,000 Jews by French police collaborating with German troops.
Knoll and her mother crossed the border into Portugal using a Brazilian passport obtained by her father.
"The soldiers looked at the passports and finally decided to let them in," Knoll's son Daniel told i24 News.
Most of the thousands of people rounded up in Paris that summer were subsequently murdered at Auschwitz.
After the war Knoll married an Auschwitz survivor and moved to Canada before returning to Paris.
A worrying trend
Knoll's death follows the murder of 65-year-old Sarah Halimi in April 2017, which was found to be an anti-Jewish hate crime.
France's Jewish community is the largest in Europe, numbering more than half a million.
In 2012, an Islamist gunman shot three children and a teacher to death at a Jewish school in the city of Toulouse.
Three years later, an associate of the two brothers who murdered a group of cartoonists at satirical newspaper Charlie Hebdo killed four people in a hostage-taking at a Jewish supermarket in Paris.
law/jm (AFP, AP, dpa, Reuters)
Each evening at 1830 UTC, DW's editors send out a selection of the day's hard news and quality feature journalism. You can sign up to receive it directly here.