Police identified the main suspect in a deadly truck attack in New York City as a 29-year-old native of Uzbekistan. At least eight people were killed and 11 others injured, including a German national.
The suspect was in critical condition when police apprehended him, but authorities said he is likely to survive.
Read more: Battle-hardened 'Islamic State' fighters pose a risk to Europe
Local media have identified the suspect as Sayfullo S., a man without a social media presence who allegedly committed what New York City's mayor described as a "particularly cowardly act of terror."
But what do we know about the suspect – and is there a motive behind the attack? DW takes a deeper look at the main suspect in first suspected terrorist attack in New York City since September 11, 2001.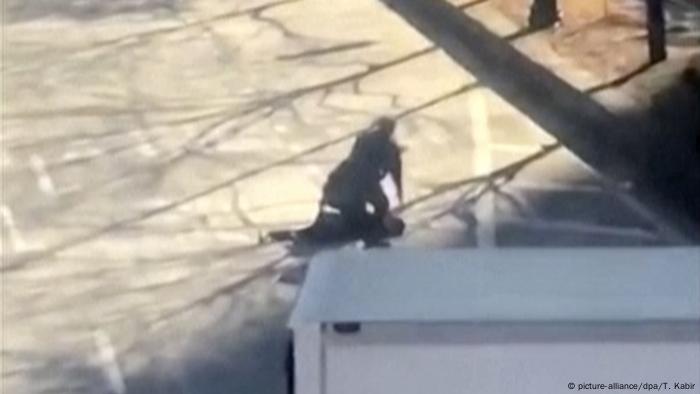 The main suspect attempted to flee the scene, but was caught by police
Across the continental US
Described by an acquaintance as a hard-working individual, New York officials confirmed that Sayfullo S. arrived in the US legally in 2010 from Uzbekistan under a visa lottery system. It is believed that his first port of call was a Cincinnati suburb in the state of Ohio.
"He always used to work," Dilnoza Abdusamatova told The Cincinnati Enquirer. "He wouldn't go to parties or anything. He only used to come home and rest and leave and back to work."
Read more: Seven terror organizations making headlines
According to authorities, the suspect had a Florida driver's license, with public records showing he lived at an apartment complex on Florida's west coast.
However, officials said he was likely living in New Jersey, where he reportedly rented a pickup truck from home improvement retailer Home Depot.
From Uber to terror
Ride-hailing company Uber said Sayfullo S. drove for the service, racking up more than 1,400 trips over six months. The company said he passed its rigorous background check and didn't tick any flags.
However, immediately following the attack, the company banned him from its service, Uber said. Records show that Sayfullo S. also worked as a commercial truck driver for two different companies since arriving to the US.
Read more: Opinion: The normality of terrorism
New York officials have said the suspect carried out the attack "in the name of ISIS," citing a note written in Arabic script referencing the militant group that was discovered in the pickup truck he used to allegedly commit the attack.
Editor's note: Deutsche Welle follows the German press code, which stresses the importance of protecting the privacy of suspected criminals or victims and obliges us to refrain from revealing full names in such cases.
ls/jm (Reuters, AP, dpa)