It's understood the four had ties to Amedy Coulibaly, the gunman who killed a policewoman on January 8 and then four people at a kosher supermarket a day later, before being killed by French security forces.
They said the detained man's girlfriend, a policewoman, was also in custody. She was posted at Rosny-sous-Bois, northeast of Paris.
According to Le Figaro newspaper, this is the location of an important intelligence center.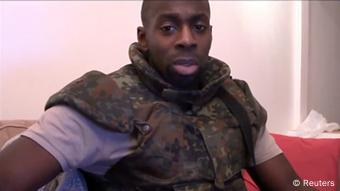 Amedy Coulibaly
The policewoman was detained together with her boyfriend, a man said to have been close to Coulibaly and who is also wanted on separate drug charges.
Europe 1 radio reported that she converted to Islam two years ago and that she was suspended from her duties in early February.
Phone records indicate that her boyfriend was in close proximity to Coulibaly shortly before the attack on the supermarket.
No details have yet been released on the other two people detained. Coulibaly's widow left for Syria days before the attacks.
It is believed Coulibaly had ties to the two men - brothers Said and Cherif Kouachi - who carried out an attack on the offices of Charlie Hebdo magazine on January 7, in which 12 people were killed.
The attacks on Charlie Hebdo and the kosher market left a total of 20 people dead, including the gunmen.
jil/jr (AP, AFP)