The French prime minister said on Tuesday the remaining three gunmen were still at large following the terrorist attack that left at least 28 people dead in Burkina Faso.
Al Qaeda militants on Friday opened fire on the Cappuccino Cafe before holing up in the nearby Splendid Hotel, which marked the beginning of a siege that lasted more than 12 hours. Among the dead were around 13 foreigners, including the Italian owner of the cafe and his Ukrainian wife.
Citizens from Canada, France, Switzerland, the Netherlands and the United States were also among those killed.
'Barbaric criminal acts'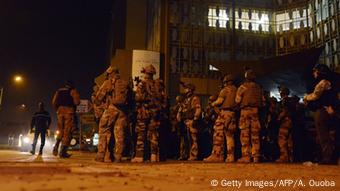 The Splendid Hotel during a militant attack over the weekend
More than 126 people were held hostage in the hotel before Burkina Faso and French security forces launched a counter-attack leading to the deaths of three of the gunmen.
The massacre was the first terrorist attack of its kind in the West African country.
"These truly barbaric criminal acts carried out against innocent people, claimed by the criminal organization Al Qaeda in the Islamic Maghreb, seek to destabilize our country and its republic institutions, and to undermine efforts to build a democratic, quiet and prosperous nation," said President Roch Marc Christian Kabore.
blc/kms (AFP, Reuters)