Some 1.8 million voters turned out on Sunday as France's Socialists whittled down their seven presidential candidates to just two.
With half the vote counted, former education minister Benoit Hamon came out on top with 35.21 percent of the vote, while former prime minister Manuel Valls claimed the second spot with 31.56 percent.
Hamon - who was sacked under the government of President Francois Hollande for criticizing Valls' pro-business economic policies - will now go head to head with the more moderate Valls next Sunday, on January 29.
The second round will ultimately decide who will run for president on the Socialist ticket on April 23, with the second round scheduled for May 7.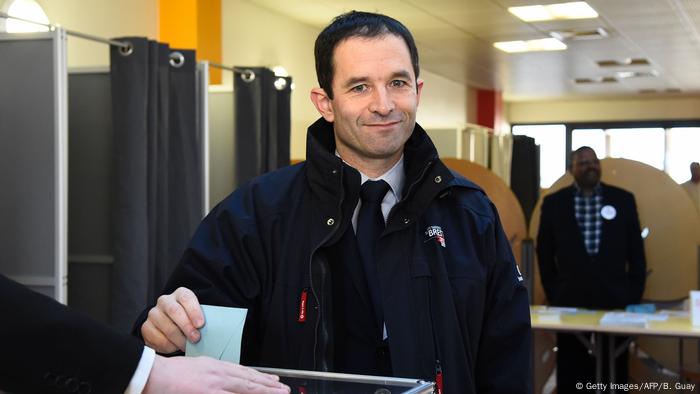 Former education minister Benoit Hamon came first in the Socialist primary with 35.21 percent
Forty-nine year-old Hamon has gained popularity in recent months by leading a group of rebel Socialist lawmakers who opposed Valls.
Popular policies include the taxation of robots and his pledge to push for the introduction of a 750-euro ($800) "universal income" living allowance for all adults in France. The Socialist front-runner is also calling for the legalization of cannabis and the repeal of labor measures passed by Valls.
Faced with the threat of extremist attacks, as well as the task of revitalizing a lagging economy, former prime minister Valls argues, however, that he has the experience required by France's next president.
The 54-year-old, Spanish-born politician is promising to decrease taxes for modest and middle-class households and to boost police and defense.
Half a decade of Hollande
Left standing in the looming shadow of Hollande, however, whoever becomes the Socialist's pick for president later this month, will have little chance of entering the Elysee palace.
Support for the Socialist party, long a powerful force in French politics, has been severely eroded under Hollande's presidency. With his ratings at rock bottom, Hollande himself declined to seek re-election for a second term.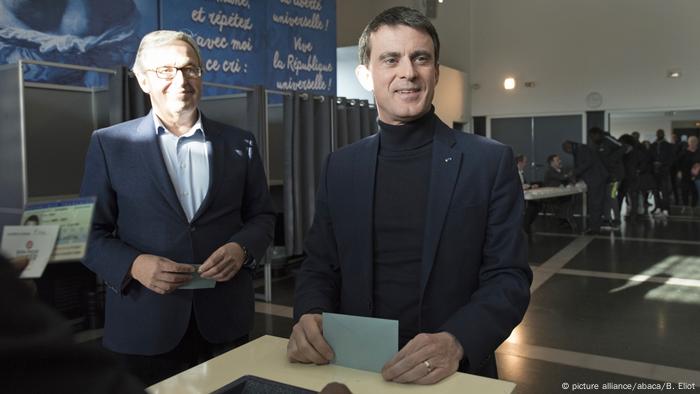 Former French Prime Minister Manuel Valls scooped 31.56 percent of the vote
During his five years in office, France was hit by three major terrorist attacks, unemployment peaked at 13 percent, and a series of strikes - over what economists describe as largely modest reforms - repeatedly took to the streets.
Current polls suggest that the most likely scenario for the two-round presidential election is for conservative former Prime Minister Francois Fillon to emerge as a winner in a runoff against far-right National Front (FN) leader Marine Le Pen.
Le Pen ahead in polls
Support for the final Socialist candidate could also be sidelined by popular independent Emmanuel Macron, who shares some of the pro-business strategies of Valls and is seen as attracting the same kind of middle ground voters.
Pundits believe Macron could make it into the presidential runoff, and even potentially win it. A poll released on Thursday, however, left Macron in third position with 17 to 20 percent of the vote, behind conservative frontrunner Fillon on 23 to 25 percent and far-right candidate Le Pen with 25 to 26 percent. Although the poll - conducted by Ipsos Sopra Steria for French daily Le Monde - only shows voting intentions in the first round of the presidential election.